Former WWE Superstar Recalls When Triple H Forgot His Lines During a Promo With CM Punk
Published 03/17/2021, 11:10 AM EDT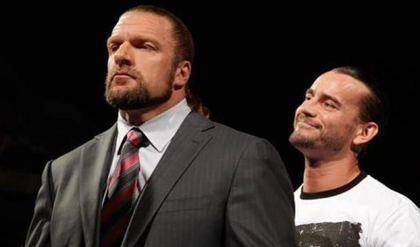 ---
---
Wrestling is a key aspect of WWE that has been the baseline of its product for generations. However, the 'E' in the name stands for 'Entertainment', which is why Superstars need to be good with a mic in their hands in addition to being good in the ring. 
ADVERTISEMENT
Article continues below this ad
Promos are what can make or break a feud, and while WWE Superstars are trained well in these, there are times that even the best suffer a brain fade in the middle of the heat. 
Triple H had a rather forgettable moment on the mic
ADVERTISEMENT
Article continues below this ad
While in conversation on Talk 'N' Shop, former WWE Superstar Luke Gallows recalled such an instance. The wrestler explained how Triple H once forgot his lines and asked CM Punk for them.
"Punk and HHH are promoing back and forth. Punk gets a pop, Hunter gets a pop, and then Hunter drops the mic to his pecs and goes, 'What's my line?' and Punk [feeds it to him].
"Even those guys, it's hard to remember all those fucking lines," explained Gallows.
A man like Triple H, who has been in the business for over 2 decades and has delivered hundreds of promos. He should be a master; however, this proves that even the top men in the industry have their embarrassing moments at times. 
Randy Orton once forgot his part for a promo against Sheamus and asked the latter for his line, a moment that was caught on camera. Roman Reigns also had such a moment during his feud with John Cena, which turned out to be a very embarrassing situation. 
Superstars have managed to show their skills in the face of danger
Not everyone is The Rock, and that is the sad reality. While there have been a few mind-fogs, some Superstars have managed to stand strong in the face of sabotage attempts. 
The fans have been wild at times and attempt to deliberately derail Superstars during promos if they dislike them. For example, Alexa Bliss was once the subject to the 'What?!' chants. 
ADVERTISEMENT
Article continues below this ad
It can be very hard to get a promo going with those chants coming in every time you pause. However, Bliss handled it perfectly. She and other Superstars such as The Miz have been able to deal with them in the best way possible. 
Leading from the front, Vince McMahon also showed his Superstars the best way to deal with these chants. All this being said, WWE trains its stars well when it comes to promos.
ADVERTISEMENT
Article continues below this ad
Most of the time they are flawless, which makes it extremely embarrassing or out of place when one person forgets their line.