From Omos to Batista, the Largest Ever Sidekicks in WWE History
Published 02/27/2021, 11:07 AM EST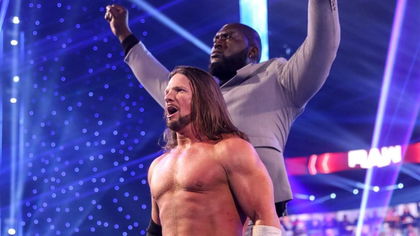 ---
---
Omos has been the talk of WWE recently as he continues to aid AJ Style in his rampant whims throughout every episode of Raw. The 7-foot 3-inch giant has towered over everything he walks past and has surely earned his name already in the WWE Universe. 
ADVERTISEMENT
Article continues below this ad
However, this ominous combination of tall and short doest seem too unfamiliar with WWE fans. The moment AJ Styles was first seen with Omos, comparisons immediately surfaced with Shawn Michaels back in his first run in WWE through the early 90s.
ADVERTISEMENT
Article continues below this ad
Shawn Michaels had not one, but two big sidekicks!
HBK is one star that understands the importance of having some muscle to watch over him and has a rather iconic history with sidekicks larger than him. 
First, he had Diesel, also known to fans as Kevin Nash, who initially played out the role of his bodyguard before breaking out as solo Superstar. Before the days of the Kliq, Diesel was restricted to this role until he famously betrayed HBK. 
Michaels then replaced Diesel with the much more 'loyal' and merciless Sycho Sid, who made his huge return to WWE with this angle in 1995.
Back before he became the face of WWE in the midst of the Ruthless Aggression Era, Batista served alongside D-Von Dudley during his now-iconic Reverend gimmick. 
Revered D-Von introduced Batista to the WWE Universe as Deacon Batista, who was the enforcer of his preachings. Before we had 'The Monday Night Messiah' we had Reverend D-Von and Deacon Batista, and fans must never forget that. 
Big E debuted on the WWE main roster as Dolph Ziggler's sidekick
Dolph Ziggler was in the midst of a losing effort with John Cena, but AJ Lee came to his rescue, apparently employing the skills of one of the largest men she could find- Big E.
ADVERTISEMENT
Article continues below this ad
The then NXT call-up flattened Cena, establishing his debut on the main roster. Now, he is a much bigger star in WWE and intends to keep it that way or go even higher. 
WWE has added on to that and released a video of the largest ever sidekicks to ever accompany the Superstars in its history. You can see the list for yourself in the video below. 
ADVERTISEMENT
Article continues below this ad