"Hate Is My Motivation"-Braun Strowman Shows Off Insane Workout Preparation for WrestleMania
Published 03/17/2021, 8:15 AM EDT
---
---
Shane McMahon lit up the WWE Universe when he emptied a bucket of green slime on Braun Strowman on the latest episode of Raw. He left the big man looking like a complete imbecile in front of him, a moment that was not appreciated at all by Strowman. 
ADVERTISEMENT
Article continues below this ad
WWE has announced that the two will be facing off in a showdown at WrestleMania to settle their differences, and Braun Strowman is eager to destroy his corporate nemesis. 
ADVERTISEMENT
Article continues below this ad
In a recent post on Twitter, 'The Monster Among Men' shared a video of him working out and preparing for the fight. He claimed that his hate toward Shane McMahon is fueling his motivation and we could see the true beast unveiled at the big stage.
The impressive part of this workout is that Strowman is using the Smith Machine without touching the bar to his chest. Normally, people do this to get a head-start on the upward rep. Doing it without this is strenuous and really requires some extra effort. 
That's just how much Braun is willing to put in. By the looks of it, he aims to tear up Shane McMahon and break him at WrestleMania.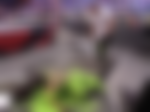 Braun Strowman is annoyed with Shane McMahon's attitude
Braun Strowman long suspected that the corporate authorities of WWE had been denying him the big opportunities and were booking him poorly. Due to his lack of big picture action, he confronted Shane McMahon and Adam Pearce but did not get any positive result.
ADVERTISEMENT
Article continues below this ad
His fears were confirmed when Shane implied he was stupid in a promo on Raw, stuttering Braun's name rather than saying it cleanly. This angered Strowman even more, and his patience has run out completely. 
Braun Strowman has had the biggest fall from grace over the year. Last year, he defeated Goldberg to win the WWE Universal Championship. Since then, it has been a steep fall. 
ADVERTISEMENT
Article continues below this ad
He dropped the title to "The Fiend", his arch-nemesis, and failed to regain the belt because of the interference of a returning Roman Reigns. Cut off completely from any prospect of regaining, he was drafted to Raw following which he had a short feud with Keith Lee. 
The NXT call-up settled his differences with Braun with a win, throwing 'The Monster Among Men' further down the ladder. To cap it all off, Shane McMahon humiliated him on Raw. All this pent-up rage could be the death of McMahon, and he has some nerve going into the fight with a furious beast like Braun Strowman.