Sheamus Gets a Surprise Opponent During the Open Challenge on WWE Raw
Published 04/26/2021, 10:16 PM EDT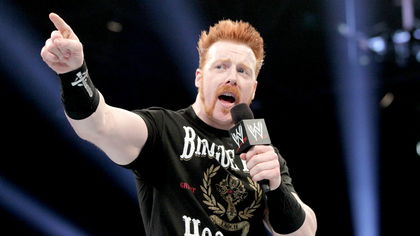 ---
---
Sheamus seems to be on a high horse ever since his victory over Matt Riddle at WrestleMania. In fact, he has been flaunting that new United States Championship wherever he goes. As the dominant Champion, 'The Celtic Warrior' pushed things too far on Raw and ultimately paid the price. 
ADVERTISEMENT
Article continues below this ad
On the latest episode of Monday Night Raw, Sheamus again threw up his open challenge. Following his victory over Humberto Carrillo last week, Sheamus was confident of decimating anyone.
ADVERTISEMENT
Article continues below this ad
To Sheamus' chagrin, Carrillo decided to give it another go and face the brute force of Sheamus. At first, 'The Celtic Warrior' laughed but was soon introduced to a re-invigorated Humberto, who took the fight to him and immediately sent him out of the ring. 
Carrillo then took him out by landing a perfectly executed takedown after flying through the ropes. Sheamus was bamboozled and didn't know where he was; Humberto had really come back prepared. 
Humberto Carrillo caught Sheamus off guard
By the time he realized what was happening, Humberto was already walking away, indicating that he was ready to take down the veteran and humble his pride. Sheamus, on the other hand, was furious at this humiliation and ended up breaking one of the fancy commentary chairs.
We can only wait to find out if Humberto Carrillo suffers the same fate as that chair on Raw. Sheamus has had a detailed history of wrestling the toughest opponents in the business and quite frankly, he enjoys the brutality. 
Hardened by combat, the Irishman is prepared for a fight anywhere, be it a local bar in Dublin or at the center of the ThunderDome. However, his pride and overconfidence have always cost him dearly. 
ADVERTISEMENT
Article continues below this ad
Thus, Sheamus must not underestimate Humberto, as the Mexican star has wrestling in his bloodline. Being the third generation of professional wrestlers in his family, he has a rich heritage in the sport.
Despite being of a ripe young age of 25, he brings a unique skill set to the table, and they didn't call him Ultimo Ninja back in Mexico for nothing. 
ADVERTISEMENT
Article continues below this ad