"I Was Able To Pull This off"- Bayley Looks Back at Her Infamous Heel Run on WWE SmackDown
Published 05/17/2021, 2:46 PM EDT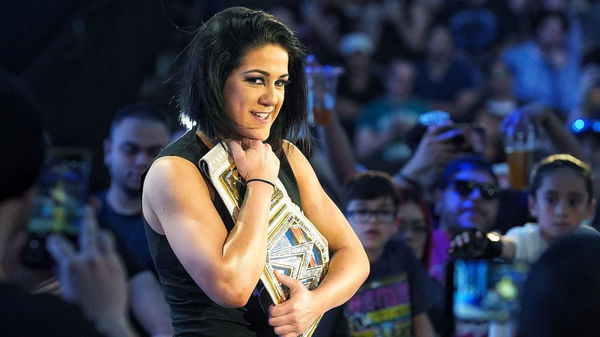 ---
---
Bayley emerged once more as the biggest name in the SmackDown Women's Division last year through a continuation of her infamous heel role, that saw her turn the babyface constant right on its head to a more selfish and vicious version of the character. 
ADVERTISEMENT
Article continues below this ad
2020 saw her reign as SmackDown Women's Champion flourish, partnering with her best friend Sasha Banks who had also turned heel. This heel persona was brilliant in its prime, but this year, it seems very exhausted on the Superstar, and fans feel she needs a re-envisioning. 
ADVERTISEMENT
Article continues below this ad
Looking back on the decision to turn heel in the first place, Bayley regrets nothing.
"It feels really rewarding, you know, it's kind of like I love rubbing it in everyone's face that I was able to pull this off," she said, speaking to New York Post. "But I have to thank WWE and Vince [McMahon] really for giving me the go-ahead and his blessing to do this. It's something I've been thinking about for years and, no, I didn't think it was going to work out this way."
Bayley feels a live audience could have brought out more in her character
Bayley admitted that the character would have lasted a lot longer in terms of an arch if there was a live audience to witness it, but things didn't age well in the heel role, as was blatantly evident following her poor bookings this year. 
"I like to think for me it all worked out for a reason and it's just been really fun to be something different. I want to be able to be someone who did everything in the WWE and didn't just kind of have a straight-through story," the former SmackDown Women's Champion explained.
ADVERTISEMENT
Article continues below this ad
The real marker to the character running its course was Bayley's absence from the WrestleMania 37 match card on both nights. The lack of a proper storyline or feud saw her miss out on the in-ring action.
"Well, it sucked because that's everyone's favorite time of the year," she admitted. "But, I'm gonna say this is the last interview I'm going to talk about WrestleMania because I have finally put it to peace."
ADVERTISEMENT
Article continues below this ad
Bayley refuses to let the WrestleMania snub hold her down and is convinced she can reel it back in her favor this year. Be it a long hiatus or a sudden interesting storyline, we can be sure of Bayley's return to the top.