"I'll Drop You in a Second"- Drew McIntyre Was Ready for Real Heat With Brock Lesnar at WrestleMania
Published 04/30/2021, 1:29 PM EDT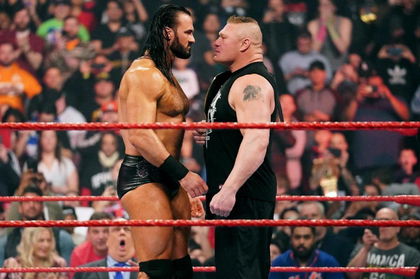 ---
---
Drew McIntyre rose up the power rankings in WWE considerably by beating its most challenging level- Brock Lesnar, at WrestleMania 36 last year and made history as the first-ever Englishman to win the WWE Championship. 
ADVERTISEMENT
Article continues below this ad
Slaying the beast was not easy business and McIntyre knew exactly what he was getting into. Brock Lesnar is one of the toughest and most dominant men in the business and has a reputation for crushing opponents with his relentless offense.
ADVERTISEMENT
Article continues below this ad
'The Beast Incarnate' is also known for getting a little too much out of sync with character and he often loses control I the ring, resulting in a hard pudding to an unfortunate opponent. 
Drew was well aware of this, but had no fear in his mind as he stared into Lesnar's hungry eyes. In his recent book 'A Chosen Destiny', the former WWE Champion revealed just how the atmosphere was getting into the ring with a man ready to rip him apart.
"Brock swaggered out to take up my challenge and I saw the manic look in his eyes. You know when Brock's into it. You can feel it. The air bristles with electricity," McIntyre said. "He generates a forcefield of malevolent energy and he was bringing that into that ring like he was about to have a brawl in the Ultimate Fighting Championship."
Drew McIntyre was ready to 'drop' Brock Lesnar in a second
'The Scottish Psychopath', however, had his guard up at all times and was ready for anything Brock Lesnar had in mind, be it in the sketch or off-script. 
ADVERTISEMENT
Article continues below this ad
"If you could have read my mind, you'd have known I was thinking, 'If you pull a funny one out here, Brock, if you pull a fast one, I'll drop you in a second'. That was the stuff that was going through my head," McIntyre revealed. "I worked myself into such a frenzy of aggression that we could have done that match in a bar, no cameras there. I was so focused and fired up like I was going into a real fight." (H/T Inside The Ropes)
Needless to say, the showdown hit on every expectation, and the only thing missing from it was the roar of the crowd as the two powerhouses took each other apart. 
ADVERTISEMENT
Article continues below this ad
Although Brock Lesnar probably ended up going on-script, we know for a fact that Drew McIntyre was prepared for anything which is precisely what made him walk out of there as WWE Champion.