"It Really Meant a Lot to Me"- Bret Hart Reveals Emotional Conversation With Vince McMahon in Hospital
Published 11/16/2020, 11:41 AM EST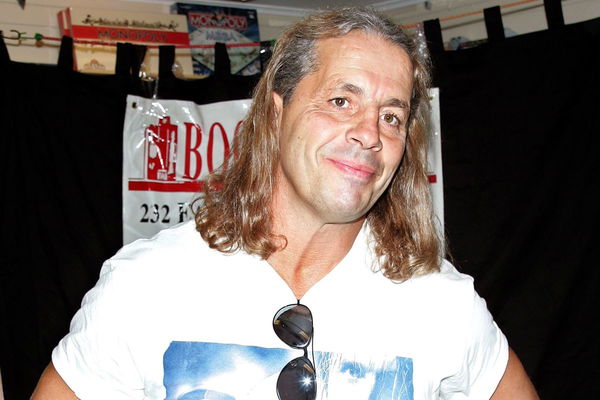 ---
---
Bret Hart is one of the greatest wrestlers of all time and is definitely a living legend in every sense of the word. He is also a very fiery man and does not refrain from revealing his raw feelings towards a former colleague.
ADVERTISEMENT
Article continues below this ad
Most of his hatred came towards WWE and the figures there. He has maintained some form of bitterness towards the company ever since the Montreal Screwjob at Survivor Series 1997. 
ADVERTISEMENT
Article continues below this ad
Although, it seems as if he has mended fences with Vince McMahon and has put the past behind him when it comes to WWE. 
In Episode 30 of Confessions Of The Hitman, Bret Hart revealed how Vince McMahon reached out to him at a low-point in his life. This was the moment that made Hart see his former boss in a new light.
"[McMahon] called me up in the hospital, and I remember I was very stunned that he called me in the hospital. Maybe it was Day 3 of my stroke and I was in pretty rough shape still," admitted Hart. 
"I could hardly talk and I couldn't sit up or anything. I was pretty frail, and when you have a stroke, you're pretty messed up. But he gave me a very heartfelt pep talk. 'You're a fighter. You're going to beat this. You're going to show everyone you're going to get through this,'" Hart revealed. "It really meant a lot to me."
Bret Hart still has a bitter-sweet relationship with Vince McMahon
Bret Hart is always under the public eye for his comments on other Superstars. The former WWE Champion has a lot to say about a lot of people but never veils his blows.
ADVERTISEMENT
Article continues below this ad
For years he maintained bitterness with Vince McMahon and refused to re-enter the WWE ring even after the fall of WCW. Hart himself was put out of action permanently after suffering a concussion in 1999 during a match against Goldberg.
However, years later, 'The Hitman' agreed to be inducted in the WWE Hall of Fame. His return to WWE to mend fences with arch-rival Shawn Michaels and Vince McMahon was met with resounding approval from WWE fans.
ADVERTISEMENT
Article continues below this ad
Of course, we couldn't expect anything less for 'The Greatest there is, The Greatest there was, and The Greatest there ever will be'.