"It's a Great Honour"- Jushin "Thunder" Liger Sends WWE Fans an Emotional Message at Hall of Fame Induction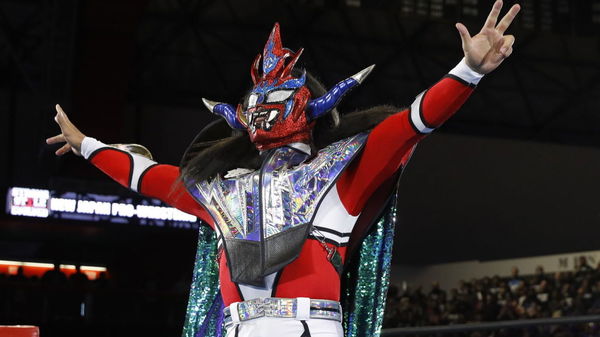 The annual Hall of Fame ceremony concluded a few hours ago, and we got to see some legends of the past return to receive the ultimate honor, a place in the hall of the greatest of all time.
Amongst the many names that appeared was Japanese professional wrestling icon Jushin "Thunder" Liger. The superstar plied his trade in the WWE in the late 90s and sported some of the best ring attire known to fans. 
ADVERTISEMENT
Article continues below this ad
Liger could not be physically present at the ceremony due to lockdown restrictions, but that didn't stop him from thanking fans all over the world. WWE played his message on the big screen, and it was as if we had him present right there on the podium. 
For those that cannot view the video due to regional restrictions, here is what the Wrestling legend had to say. 
"I am excited. I have goosebumps all over me. And this is the first time I've been so nervous to speak. It's a great honor to be inducted into the WWE Hall of Fame and to receive a Hall of Fame plaque and ring. I'm really glad I became a professional wrestler. I am really thankful to you, our fans. Thank you all so much, thank you all my fans in WWE."
Jushin "Thunder" Liger mesmerized fans with his style
Jushin Liger is one of the best-known names in Japan when it comes to professional wrestling. He inspired hundreds of children who went on to become professional wrestlers themselves. In fact, WWE Superstar Shinsuke Nakamura is also a big fan of Liger and named him once as his childhood hero. 
ADVERTISEMENT
Article continues below this ad
Jushin "Thunder" Liger was actually a part of the 2020 batch of Hall of Fame inductees and was supposed to appear in front of a live audience for the induction. However, the pandemic changed everything and WWE had to postpone its ceremony.
This year, the batches of 2020 and 2021 were inducted at the ceremony and were gifted a commemorative plaque and ring for this honor. Unfortunately, the ceremony still could not be seen in front of a live audience, but fans nonetheless cheered for each inductee on the ThunderDome screens.
ADVERTISEMENT
Article continues below this ad
Liger himself wrestled his last match last year at WrestleKingdom, ending an illustrious career on a high note.