Jinder Mahal Recalls a Rare Botch With The Undertaker on WWE Raw
Published 12/24/2020, 12:32 PM EST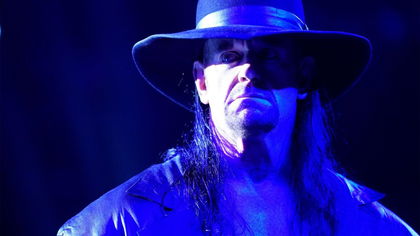 ---
---
The Undertaker is the most experienced wrestler in WWE. His work in the ring has evolved through years of learning, and even in retirement, still is WWE's best asset for his knowledge. 
ADVERTISEMENT
Article continues below this ad
However, awkward moments happen even to the best of us, and 'The Deadman' had one such moment on the 1000th episode of Raw. Taker was seen struggling to get off his jacket on the show!
ADVERTISEMENT
Article continues below this ad
In a recent interview with WrestlingNews, former WWE Champion Jinder Mahal detailed the events that took place from his ringside point of view.  
"Just being around him, his aura. He's so helpful, helping all the young guys. He watches every match and if you need advice from Taker, there's no one better to go to. He's the man," said Mahal, fully in praise of the WWE legend.
"My favorite memory is probably I think Raw 1000 when me and a group of underutilized talent… Drew McIntyre was part of the group, went to attack the Brothers of Destruction in a match, and ended up getting a Chokeslam probably for that night. His jacket got stuck, when he went to take it off it took forever to take it off," revealed Mahal. 
Jinder Mahal was part of the group of wrestlers that fell victim to The Undertaker and Kane that night. At the time, he too was a rising star, years before his historic title win. 
The Undertaker isn't the first to suffer from wardrobe issues
ADVERTISEMENT
Article continues below this ad
While the botch wasn't really Taker's fault as much as it was the attire, the moment was awkward nonetheless. Thankfully, the fans present took it as a dramatic pause moment rather than a botch. 
There have several moments in WWE where ring attire has resulted in botches. Shawn Michaels had a much more embarrassing situation when his jacket riddled with chains got stuck to the entrance ramp. 
ADVERTISEMENT
Article continues below this ad
Michaels was pulled back with the force and was forced to remove it altogether. The Undertaker didn't have so much of a problem, but it was a close call.