Kushida Steals Cruiserweight Championship From Santos Escobar in Huge Upset on WWE NXT
Published 04/14/2021, 8:23 AM EDT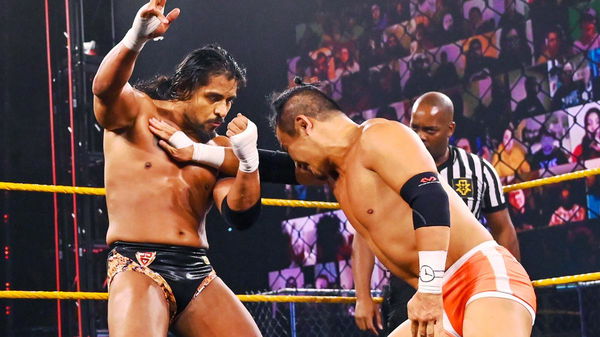 ---
---
Santos Escobar settled his rivalry with Jordan Devlin once and for all to claim the title of the Undisputed NXT Cruiserweight Champion at NXT TakeOver "Stand and Deliver". After a long period of tension between the two over holding the same belts, they decided to settle the deal once and for all. 
ADVERTISEMENT
Article continues below this ad
However, on the latest episode of NXT, Escobar proved that winners are the most vulnerable after their victory, after he shockingly dropped his title to Kushida in one of the biggest upsets so far this year. 
ADVERTISEMENT
Article continues below this ad
Escobar, confident after his victory over Devlin, threw an open challenge to the NXT roster and placed his Championship on the line for the same. Seeing this golden opportunity, Kushida stepped up and kicked the Champion out of the sky. 
Following a series of roll-up pins, the Japanese superstar caught Escobar with his weight long enough for the three-count. The undisputed Champion was kicked off his throne and even though Kushida stole the victory away, it still counts as a win. 
Escobar was humbled by this valiant display of genius by Kushida, and will undoubtedly learn from this mistake. However, he will be forced to accept that his efforts at Takeover are now in vain.
Kushida is not the first to humble a Champion in WWE
WWE has a long history of upsets when it comes to overconfident Champions. There have been several instances when an open challenge has gone wrong, and this is in no case the first time it has happened. 
ADVERTISEMENT
Article continues below this ad
During her dominant reign as WWE Divas Champion, AJ Lee assumed she was invincible and made the mistake of putting her title on the line against NXT call-up Paige. Lee lost her title in one of the biggest upsets in WWE history as Paige sealed the victory. 
At SummerSlam 2017, Sasha Banks defeated Alexa Bliss by submission to become the new Raw Women's Champion, much to the joy of fans. However, Alexa Bliss challenged and defeated 'The Boss' on Raw the following week, humbling the overconfident Champion. 
ADVERTISEMENT
Article continues below this ad
Charlotte Flair also dropped her newly won title to Bayley in 2019, which marked the beginning of the latter's heel run. The list goes on and it's no doubt that new Champions forget the fact that their opponent is dangerous and can do as much as them inside the ring.