"Maybe It Will Happen"- Pat McAfee Teases a Possible Heel Commentator Role on WWE SmackDown
Published 04/23/2021, 2:01 PM EDT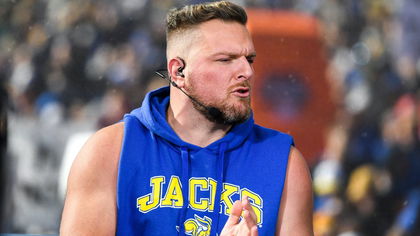 ---
---
While Adnan Virk may not have got the start he imagined on Monday Night Raw, Pat McAfee really stole the show on Friday Night SmackDown when he debuted as the newest member of its commentary team alongside Michael Cole.
ADVERTISEMENT
Article continues below this ad
The former NFL punter has brought hopes of a possible heel commentator in his new role, and fans are hoping to see him dive right into that; it has been a long time since WWE has had a good heel commentator. 
ADVERTISEMENT
Article continues below this ad
In his recent interview with New York Post, McAfee admitted to entertaining that thought but is focused on getting his footing right in this new role as a 'first things first' call. 
"I'm trying to be something that provides a little more assist for stories that are happening as opposed to interjecting myself in stories," McAfee explained. "But it was difficult not to be a heel full-time in there, I will say." 
Pat McAfee will not directly jump into the heel role
Pat McAfee laid down the bottom line and talked about how he doesn't want to make his role about himself since his job behind the desk is to highlight the in-ring action as much as possible. 
"I think that will naturally turn up (the heel role) a little bit, but I don't think you'll ever expect me going on to commentary … maybe it will happen, but I don't think so, though … of me saying, 'it must suck to suck' or whatever to whoever is listening. I don't know if that's going to happen," McAfee said.
"Maybe it will. Maybe that's how it will kind of feel and lead to. But for me, I'm naturally more of a heel, but I also want to make sure I'm not distracting from all the incredible things going on SmackDown."
From his words, it's clear that WWE plans on building Pat McAfee towards that heel role rather than dropping him straight in the lava. This suggests that he is in for a long-term storyline that sets his character up for that heel role.
ADVERTISEMENT
Article continues below this ad
What's more impressive is that McAfee talked about how he watched videos of legendary commentators Gorilla Monsoon and Bobby "The Brain" Heenan and how they paired up and also draws inspiration from Jerry "The King" Lawler. 
He has surely done his homework, and we can expect to see the very best of Pat McAfee in future episodes of SmackDown. 
ADVERTISEMENT
Article continues below this ad