WATCH: Stipe Miocic, Jared Cannonier, and Other UFC Fighters Name Their Favourite WWE Superstars
Published 01/01/2021, 11:57 AM EST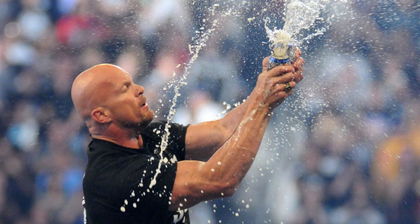 ---
---
The worlds of MMA and WWE are very different each other and rarely coincide unless a former MMA star like Cain Velasquez or Ronda Rousey comes in for a stint. 
ADVERTISEMENT
Article continues below this ad
However, MMA stars today were also deeply influenced by professional wrestling growing up and were avid fans of WWE/WWF and WCW as young boys. 
In a recent video shared by James Lynch, several MMA professionals across various promotions were asked to name their favorite professional wrestlers; they all replied with fond memories of their childhood. 
ADVERTISEMENT
Article continues below this ad
Jared Cannonier had an array of Superstars to choose from. He preferred the likes of Stone Cold, Booker T, Hulk Hogan, The Ultimate Warrior, and The Bushwackers. 
Stipe Miocic, the UFC Heavyweight Champion, picked his close friend Mojo Rawley as his favorite while TJ Dillashaw went with "Stone Cold" Steve Austin straight away. 
Calvin Kattar chose The Ultimate Warrior. He even mentioned that he had the iconic armband and headband of the WWE legend and felt powerful wearing it!
WWE legends The Ultimate Warrior and Stone Cold won the majority of picks
The show was stolen by the Ultimate Warrior and Stone Cold Steve Austin, both of whom are the most popular WWE Superstars even today. 'The Rattlesnake' and Warrior made up the majority of the choices by the fighters. 
This isn't surprising considering the massive influence Stone Cold and Warrior had on their respective eras in WWE. Growing up as a kid in the 90s meant that one could not miss the antics of the two stars. 
The Ultimate Warrior stole the show with his adrenaline filled entrances and energy into the ring. His muscular physique and colorful ring attire made him the most popular Superstar at the time. 
ADVERTISEMENT
Article continues below this ad
WWF was only growing bigger and Warrior was the face that ran the place for a brief amount of time. As WWF moved forward, Stone Cold came in with his own persona.
In an era defined by employees wanting to defy their bosses, Stone Cold stood as the role model by making the dreams of fans a reality. He fearlessly took out Vince McMahon with his Stunner on multiple occasions. 
ADVERTISEMENT
Article continues below this ad
The two were role models for children all over the USA. WWE fans undoubtedly still remember the days Stone Cold and the Ultimate Warrior walked the ring.