Nigerian Drum Battle! Unique Stipulation Added to Apollo Crews vs Big E at WrestleMania 37
Published 04/03/2021, 11:26 AM EDT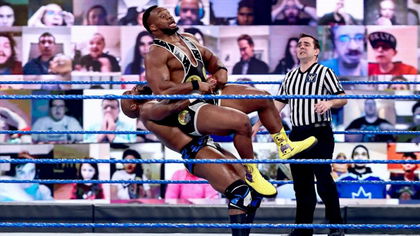 ---
---
His name may be Apollo, but his relations to Trojan and Greek heritage go no further than the name. The new Nigerian heritage gimmick has seen Apollo Crews transform into an intriguing character that has embraced his ethnicity and seems to be the WWE equivalent of Black Panther right now. 
ADVERTISEMENT
Article continues below this ad
It seems as if Crews is taking this all the way and has introduced his own stipulation to the ring. On the latest episode of SmackDown, Crews just made his WrestleMania match against Big E a lot more interesting. 
ADVERTISEMENT
Article continues below this ad
"None of my royal Nigerian ancestors have ever been more disrespected than I was by Big E at Fastlane. And if you think I will stand for that level of deceit, you're a bigger idiot than I thought," Crews said. "Nah, this time we do it the right way for the Intercontinental Championship in a Nigerian Drum Fight!
"An ancient duel created by my ancestors for those who are wrong to get to make it right: No rules, no limitations, just a beating so loud it sounds like a drum. This is the fate I wish for you Big E. I challenge you to a Nigerian Drum Fight at WrestleMania!" (H/T Inside The Ropes) 
Crews was pretty clear on what he wanted the stipulation to be, but we don't really know what it is. There has been no further explanation as to what the 'Nigerian Drum Fight' will be and it is the first of its kind. 
By the sound of it, the competitors have to beat the pulp out of each other or at least attempt to. The resembling sound would be like a Nigerian drum, which is quite peculiar but does leave us intrigued at what the match holds. 
WWE has had other such stipulations in the past
ADVERTISEMENT
Article continues below this ad
This stipulation isn't the only ethnicity-themed one created by WWE. During his heyday, The Great Khali introduced 'The Punjabi Prison' match which was an extension of the Steel Cage concept. 
In place of the steel were bamboo sticks, and the cage had no top. However, it had 2 walls around the ring which meant that Superstars would have to climb out of both layers to escape the hell of the Punjabi Prison. 
ADVERTISEMENT
Article continues below this ad
The Nigerian Drum Fight could be exciting to watch if executed well. We hope it isn't a repeat of the Eye-for-an-Eye match but should be well-plotted, judging by the high stakes involved at WrestleMania.