Everything You Need to Know About the 'Spy' on Sami Zayn's WWE Documentary Crew
Published 03/06/2021, 1:15 PM EST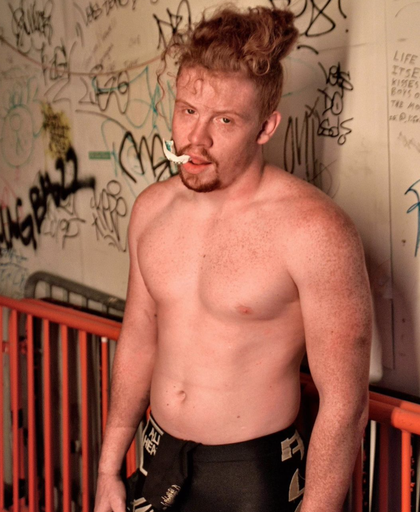 ---
---
Sami Zayn went all out psychotic on Friday Night SmackDown's latest episode. Caught up in his conspiracy theory paranoia, he couldn't recognize a member of his own documentary teams and immediately assumed that the man was a spy sent by WWE. 
ADVERTISEMENT
Article continues below this ad
While everyone was focusing on an enraged Sami Zayn, many may not have recognized who the man that took the beating was. A closer look revealed that he was none other than the new WWE development signing Blake Christian. 
ADVERTISEMENT
Article continues below this ad
Christian was unveiled last week as one of the recruits that would be featuring in NXT soon. He is part of one of the Performance Centre's biggest talent intake of all time. 
Upon first look, fans joked that he would be the next Sheamus due to his uncanny resemblance to 'The Celtic Warrior'. Although, he didn't quite get the start as Sheamus judging by the beating he took today. 
Blake Christian has only just entered WWE, but he has quite an impressive resume so far. He wrestled in GCW and also worked in Impact Wrestling, and featured on NJPW. 
Although WWE will most probably make him go through the developmental process in NXT, there is an off chance he works on this angle with Sami Zayn and the documentary crew.
If he actually is a spy for WWE in the storyline, it could be a good first role for him in the company. If he is on the good books of the writers, there could be something in it for him.
Blake Christian is part of an exciting intake of talent by WWE
While on the topic of exciting new recruits, Parker Boudreaux has been making the rounds on social media. The former football player has grown famous for being called 'The Next Brock Lesnar' due to his striking resemblance to the WWE legend. 
He has been training with former WWE Superstar Eva Marie and looks to turn ripples into waves on NXT. Fans are most excited to see how he progresses in WWE and want to see if this 'Next Brock Lesnar' is worth the hype.
ADVERTISEMENT
Article continues below this ad
Bronson Rechsteiner, son of WWE legend Rick Steiner, is also an exciting talent that has entered the performance center. Also a former football player, he looks to emulate his father's legendary career and climb the anvils of professional wrestling. 
ADVERTISEMENT
Article continues below this ad
The next generation looks very exciting, and there isn't enough that can be more said about it. We can surely expect big things from the new blood that will soon make their debuts in NXT.