"I Started Yelling at Everyone"-Elias Recalls a Nerve-Racking Boardroom Meeting With WWE Executives
Published 12/16/2020, 7:00 AM EST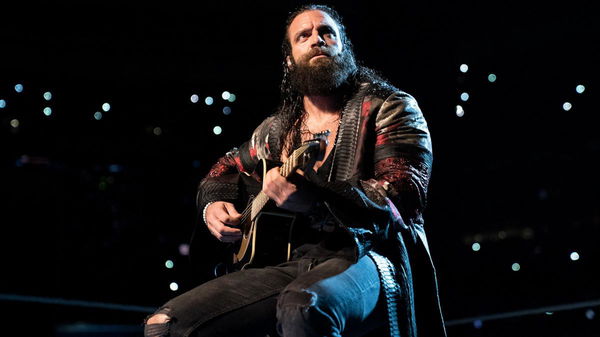 ---
---
Elias has one of the most iconic characters in WWE right now. His drifting musician persona really suits his vibe. Apparently, there is a very interesting story behind this Fender Guitar breaking persona.
ADVERTISEMENT
Article continues below this ad
In a recent interview on Chasing Glory with Lilian Garcia, Elias revealed the moment that would have made or taken his career in WWE. The Superstar revealed that the head of NXT asked him to come up with a new character within 30 days.
ADVERTISEMENT
Article continues below this ad
"So over the next 30 days, I put together a character that I called The Judge or The Drifter at the time. [His story] was that he was a guy who walked the streets with his guitar and told stories. He was supposed to be this mysterious guy," said Elias. 
"I put together a vignette and a whole package of merchandise. I also made a packet of when he was going to debut, who he was going to feud with, you name it, it was in that packet."
Elias was in for the shock of his life
Elias met with the head in the board room at the end of the 30 days. He recalled that key NXT figures like Dusty Rhodes and Nicholas Dinsmore were present. He was not prepared for what came next.
"He [head of NXT] said, 'We all looked through you're packet, and it's really good,' and he shoves it to the side and asks, 'What else ya got?' I'm like, 'What? I spent the last 30 days, night in and night out making sure that this was great.' He agreed it was good, but he wanted to know what else I had," explained Elias.
ADVERTISEMENT
Article continues below this ad
"He goes, 'Here's the deal: When I turn the lights off and back on again, you're going to give me something new.' He turns the lights off. And when he turns the lights back on, I started yelling at everyone in Italian," revealed Elias!
"I go through every single person, and I'm up in everyone's faces. When I go back to sit down, Dusty Rhodes goes, 'Holy s**t!' Nick Dinsmore said, 'I got goosebumps.' And he [head of NXT] said, 'There it is.' " (H/T Inside The Ropes)
ADVERTISEMENT
Article continues below this ad
Needless to say, Elias ended up doing his original drifter role much better and was promoted to WWE quickly. He is now a regular figure on Raw, where he also achieves success as a part-time musician. Maybe it wasn't such a bad idea to 'Walk With Elias' after all.