Alexa Bliss Explains Why She 'Betrayed' The Fiend at WrestleMania 37
Published 04/12/2021, 10:21 PM EDT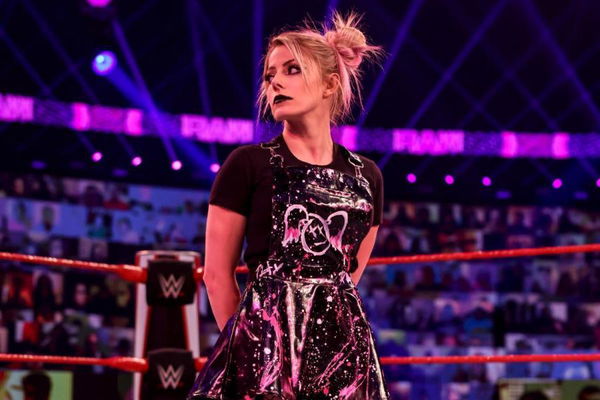 ---
---
Night 2 of WrestleMania packed a punch, but nothing got more bizarre than the opener itself, which featured Randy Orton selling his rivalry with The Fiend. The latter was on the cusp of victory when Alexa Bliss, his partner, began spurting black goo from her head. 
ADVERTISEMENT
Article continues below this ad
The distraction gave Orton enough time to RKO his rival for the win, and fans were left in confusion as everything disappeared the next moment. On the latest episode of Monday Night Raw, Alexa finally gave us the explanation. 
ADVERTISEMENT
Article continues below this ad
'The Goddess' revealed that she did, in fact, betray The Fiend and that her actions were not a consequence of some third party. She had intricately planned this and had picked the perfect moment to strike her partner when it would hurt the most. 
"The Fiend" Bray Wyatt was burned to ashes by Randy Orton at TLC 2020 when 'The Viper' poured fuel all over him and set it aflame. In the months that followed, Bliss was left to fend for herself and often encountered  Randy Orton face-to-face. 
Alexa Bliss realized she does not need The Fiend
During this time, Bliss explained how she realized that she did not need The Fiend and that the darkness was not by her side but in her way. Alexa did do an impressive job playing tricks with Randy Orton and was powerful in a sense without her partner. 
She, therefore, decided to go out on a limb and cut off the tie with Wyatt, the entity that made her what she is now. Just when fans thought the storyline was over, it just got more twisted, and we may finally reach the depths of Bray Wyatt's character through this rendition of Alexa Bliss. 
'The Goddess' also took the liberty to introduce her new friend, a doll that resembles The Fiend but in a very unsettling manner. However, something about this breakaway doesn't make sense. 
ADVERTISEMENT
Article continues below this ad
During his absence, Wyatt was trapped in a place he couldn't return from because his mortal physical form had been incinerated. Alexa was only channeling his powers during this time, and he was acting through her. 
ADVERTISEMENT
Article continues below this ad
Since she has now decided that The Fiend is dead weight to her, does it mean that she has her own powers? All this time, Wyatt has been working on her, so we have to see more to unveil the true nature of this entire angle.