Randy Orton Opens Up on Discomfort Using Eddie Guerrero's Death as Storyline Angle in WWE
Published 04/30/2021, 1:12 PM EDT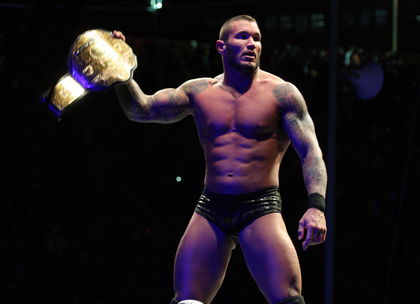 ---
---
Randy Orton is one of the greatest heels of all time in WWE and his career has been defined by his earned nickname 'The Legend Killer', acquired through a history of putting the best in the business to shame under his boot. 
ADVERTISEMENT
Article continues below this ad
Although the primary job of 'The Legend Killer' was to tarnish the legacies of established Superstars, Orton himself felt uncomfortable doing this on many occasions. However, he felt particularly off-put by one such angle, which involved him damaging the legacy of Eddie Guerrero. 
ADVERTISEMENT
Article continues below this ad
Guerrero had tragically passed away in 2005 following a cardiac arrest in the ring, a moment that still brings tears in the eyes of fans. His death was used as an angle in an infamous storyline between Randy Orton and Rey Mysterio, with the former using Eddie to instigate Mysterio. 
"[I] 100% was not comfortable with it. Rey [Mysterio] assured me that it's something Eddie would have wanted, and even still, Rey and myself went to Vickie [Guerrero], and Vickie gave us her blessing," he revealed, speaking on The Kurt Angle Show. "She said the same thing, 'Eddie would have wanted to help you guys in this manner.' If he could have used his death in some way to help the business, as morbid as that sounds, he would have wanted us to do it."
Randy Orton was thankful for the opportunity which helped his career
'The Viper' was, however, grateful for the storyline since it went a long way for both their careers in the business. 
ADVERTISEMENT
Article continues below this ad
"Although it was a horrible tragedy and we all lost our friend, it was kind of something that helped me along the way in my career, and a lot of people, you know, as a bad guy talking about that. That was heat, and it worked. It helped with the angle between Rey and me," Orton explained. 
"But looking back, it will always be something that was a little — there are a lot of things that I've done in my career that have made me uncomfortable. I think we can all agree on that, but that, in particular, was something that I'd put at the top of the list," he concluded. (H/T Fightful)
ADVERTISEMENT
Article continues below this ad
Randy Orton has humbled a lot of legends and the hit list goes on and on. Although it may have been insensitive, the angle did add depth to the story and gave the two something to work on. In a way, Eddie Guerrero helped them even after his death, and the two went on to be World Champions and experts in the business.