"One of the Greatest I Have Ever Faced"- Charlotte Flair Praises Iconic WWE Rival Asuka
Published 05/18/2021, 10:54 AM CDT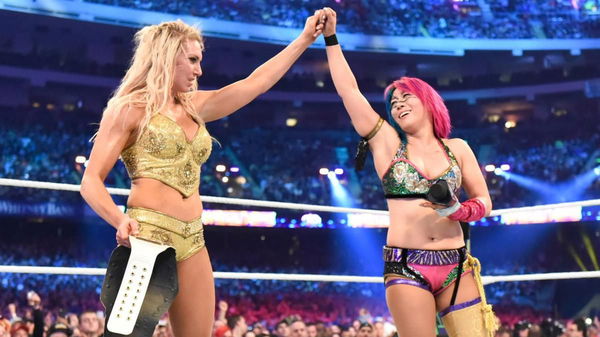 ---
---
Charlotte Flair has made an explosive and re-invigorated return to the ring, dawning some creative new attire. She has set her sights back on the biggest prize she once held- the Raw Women's Championship. 
ADVERTISEMENT
Article continues below this ad
Caught in some of the biggest competition in the business, 'The Queen' finds herself facing two arch-rivals in Rhea Ripley, the current Champion, and Asuka. 
ADVERTISEMENT
Article continues below this ad
She couldn't defeat either of the two and suffered back-to-back losses against Asuka. Rhea Ripley managed to get the better of the two competitors at WrestleMania Backlash and proved her dominance once more. 
Charlotte, however, has nothing but praise for her older rival in Asuka, who has faced off with her on numerous occasions. She is arguably the biggest match to Flair's capabilities, and the two have formed an iconic rivalry over the years.
"I think it has to do with how much I respect her as a performer and as a human," Flair said, speaking to Hindustan Times. "I believe going into WrestleMania 34, Asuka had nothing to prove. She had made a name for herself, traveled all around the world, come from Japan, and had the longest unbeaten streak in WWE history.
Charlotte Flair feels beating Asuka would 'cement her legacy'
Asuka, who was also the dominant Raw Woman's Champion for nearly a year before Ripley, is probably the Andre the Giant to Charlotte Flair's Hulk Hogan. 
"I felt like if I beat her that would cement my legacy," Charlotte stated. "When we faced off, it was like she had nothing to lose and I had everything to prove. Since last year's WrestleMania, she has been the MVP of Raw. We feel like we are always shoulder-to-shoulder." 
"She is one of the greatest I have ever faced," remarked Charlotte, completely acknowledging just how far Asuka has come in the business as a Champion, competitor, and rival. 
ADVERTISEMENT
Article continues below this ad
The two find themselves facing an unnerving third party in Rhea Ripley, who has proved her dominance at WrestleMania Backlash over the two. Charlotte managed to humble Ripley at WrestleMania 36, but this time, it's the other way round. 
Arguably in her prime, Ripley is a different animal and has proven that her tenure in NXT was more than enough to humble both a Queen and an Empress. 
ADVERTISEMENT
Article continues below this ad
Will Charlotte Flair be able to topple her over once more? We will find out as the story progresses on Raw.