Ric Flair's Protege Lacey Evans Shockingly Announces Pregnancy on WWE Raw
Published 02/15/2021, 9:40 PM EST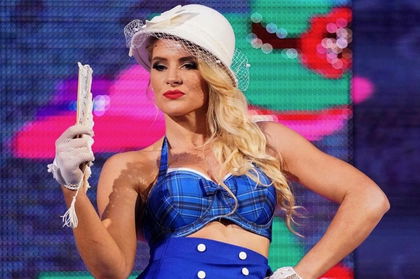 ---
---
There were a lot of things that happened on the latest episode of Monday Night Raw, but one of the most shocking moments came after Lacey Evans' match against Charlotte Flair. 
ADVERTISEMENT
Article continues below this ad
The tag team match involved Lacey teaming up with Peyton Royce, while Charlotte teamed up with Asuka. This fight took a new trajectory as Flair wanted to gain revenge on Lacey and her father Ric. 
ADVERTISEMENT
Article continues below this ad
However, things took an unexpected twist in the end when Lacey stepped out of the fight, saying she would no longer compete. The reason? She was pregnant! 
Charlotte Flair was confused and as shocked as the rest of us, while Ric Flair was ecstatic. He hopped into a little dance and threw a couple of 'Whoo!'s. This is undoubtedly one of the biggest plot twists in WWE history. 
The child could be Ric Flair's, given the fact that he and Lacey have been uncomfortably close over the past few weeks ever since the first Raw of the year. Furthermore, this plotline could have massive implications on the storyline. 
The Storyline may involve a series of backstage segments with Lacey Evans
With Lacey's pregnancy, she will no longer be able to compete in the ring, as is the norm. This means that the storyline would either be put on hold or would follow a trajectory of its own on Raw. 
We could spend the next few weeks determining if the child truly belongs to Ric Flair and Charlotte having a keen yet revolting interest in it. Clearly, this angle has gotten personal and could involve some serious moments down the line. 
ADVERTISEMENT
Article continues below this ad
Back in the Attitude Era, WWE had a crazy pregnancy angle involving Mae Young. The WWE Hall of Famer ended up giving birth to a hand! Hopefully, nothing of the sort happens with Lacey.
Her motive, however, seems aimed at not only Charlotte Flair but also at the Raw Women's Championship. There is a possibility that she is affiliating herself with Ric Flair to get in the influence for her career. 
ADVERTISEMENT
Article continues below this ad
'Nature Boy,' however, is having the time of his life and doesn't mind turning on his daughter or even instructing Lacey Evans against her.