"It's Roman, Seth, Dean, and Me"- Big E Reveals WWE's Huge Original Plan for Him
Published 03/01/2021, 6:59 AM EST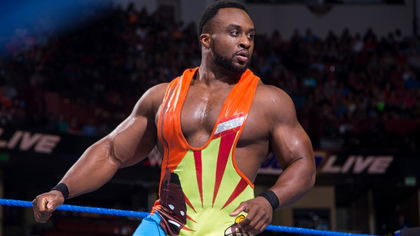 ---
---
Big E has been blasting his way through the card and has impressed all fans with his superhuman strength. The behemoth has made his name as a solo star after being separated from the New Day and aims to take his talents to bigger levels this year. 
ADVERTISEMENT
Article continues below this ad
It took Big E quite a while to unleash the lethal streak all fans knew he had. However, the Superstar was poorly booked since his debut in 2012. 
ADVERTISEMENT
Article continues below this ad
Big E's opening year on the main roster was quite good, but he failed to keep the heat going. This was because there was no sustainable plan for him. Although, he almost did have something planned for him that would have sent him to the stars then and there.
"My first feeling of getting called up was 2012. I was doing loops. Any collective period of days is a loop. It's Roman [Reigns], Seth [Rollins], Dean [Ambrose], and me. There was some thought of bringing all four of us in together as a group," revealed the Intercontinental Champion, speaking on WWE 24.
Putting it plainly, Big E was supposed to be part of the huge faction known as The Shield. The trio stalked the WWE Universe and laid waste to opponents through their teamwork.
The Shield was responsible for launching the main roster careers of Roman Reigns, Seth Rollins, and Dean Ambrose (now Jon Moxley), all of whom went on to win the WWE Championship along with other accolades. 
WWE changed plans for Big E on the main roster
Big E could have been part of that, but unfortunately, things did not turn out as planned.
"Obviously, that changes, they go on to international fame as The Shield. I was told, 'You're going to be with Dolph and AJ, on your very first night, you're going to attack John Cena.' I'm thinking, 'Man, this is it.'"
ADVERTISEMENT
Article continues below this ad
Big E ended up debuting on the main roster alongside AJ Lee and helped Dolph Ziggler escape his match against John Cena. The powerhouse laid waste to Cena, establishing his presence on the main roster. 
8 years later, he is the Intercontinental Champion once more and thinks he is ready to take on Roman Reigns, who is arguably at his peak now. 
ADVERTISEMENT
Article continues below this ad
One can't help but imagine how Big E would have turned out had he been introduced as part of The Shield.