Sami Zayn Cuts One of His Best Promos as He Protests Against WWE Degrading His SmackDown Match
Published 03/20/2021, 3:09 PM EDT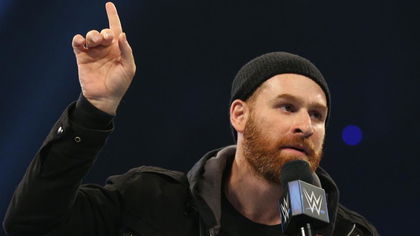 ---
---
Sami Zayn may be getting crazier by the minute and we see him unfurl every week to a more unstable version. However, he proves to us time and again just how good he can be when it comes to selling a promo. 
ADVERTISEMENT
Article continues below this ad
Zayn's documentary crew has been releasing footage of backstage segments involving Sami Zayn himself reacting to his misfortune. He constantly claims WWE is trying to ruin his career by poorly booking him and has started getting extremely invested in it. 
In a recently released piece of footage, 'The Untouchable' cut an intense promo which may just be his best in the character so far. As you can see in the video below, he goes completely bonkers and is furious about WWE degrading his match.
ADVERTISEMENT
Article continues below this ad
For those of you that may not know, WWE intentionally marketed Sami Zayn vs Baron Corbin as the 'least anticipated match in SmackDown history'. This infuriated him since he holds his contributions to the company and industry in high regard. 
The former Intercontinental Champion even tried to convince King Corbin to join his side after the match and may have just gotten into his head. Although Corbin seemed disinterested, we may see him probe further. 
Sami Zayn is stuck in a deep state of denial and paranoia
For now, we still have to deal with the shenanigans of Sami Zayn. He now looks one of Mick Foley's many personas and a paranoid version of an 80s WWE character. 
He has managed to distance himself from any sort of help. When his former best friend Kevin Owens tried explaining that he was overreacting to the situation, Zayn shut him up with a Helluva Kick. 
ADVERTISEMENT
Article continues below this ad
WWE seems to be sending Sami Zayn through the wringer with consecutive losses. He did not manage to regain his Intercontinental Championship from Big E and blamed a 'corrupt' official for his loss. 
Sami Zayn is not capable of accepting his own shortcomings in fights and does not wish to do so. Instead, he finds solace in thinking there is a grand conspiracy against him which is leading him further down the rabbit hole. 
ADVERTISEMENT
Article continues below this ad
He claims to have the support of YouTuber Logan Paul and that the documentary is scheduled to release soon. We may finally get to the bottom of this madness and see what's really in the head of Sami Zayn.