Sami Zayn Highlights the Differences Between the Superstars in Raw and SmackDown Elimination Chamber Matches
Published 02/19/2021, 6:45 AM EST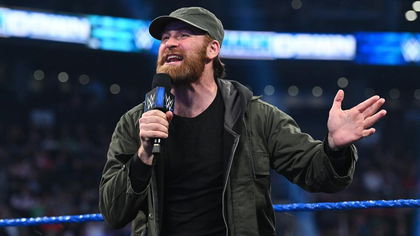 ---
---
Sami Zayn is all up in arms against WWE right now and has confirmed that there is a conspiracy against him plotted by the higher ups. Even after losing the Intercontinental title by fair means, he is unphased in his belief that he was robbed of the title. 
ADVERTISEMENT
Article continues below this ad
He will, however, have a shot at the Universal Championship at Elimination Chamber this Sunday, and is already prepared for what lies ahead. He also managed to find the stark imbalance between the Chamber matches for Raw and SmackDown.
ADVERTISEMENT
Article continues below this ad
In a recent interview with FOX Sports, 'The Untouchable' explained why the Elimination Chamber was different for Raw Superstars than it was for those of SmackDown.
"Powerhouses. I was looking for the right word without disrespecting anyone here. Because those guys can all work," explained Sami. "Those guys can all work. But, they're more muscular-type style and this is a bit more, like, agile. So, it'll be very interesting."
The Raw Championship match lineup consists of Drew McIntyre defending the WWE title against Randy Orton, Sheamus, Jeff Hardy, AJ Styles, and Kofi Kingston. It is, technically, a clash of the biggest Superstars in the business. 
Sami Zayn feels the SmackDown lineup is more 'agile'
Sami Zayn went on to explain his statement, citing examples from past Chamber matches. 
"And I don't think you've had that kind of athletic work rate type of collection of wrestlers all in one Elimination Chamber match," said Sami. "I feel like over the years, you'll see like Cena and Orton and Kane and Big Show. All these huge guys- Triple H.
"These guys who are obviously great at what they do, but not the, I don't know what you want to call them, more agile sort of smaller guys who are known for their work rate or these types of exciting matches."
The SmackDown lineup for the Chamber consists of Kevin Owens, Daniel Bryan, Cesaro, Jey Uso, King Corbin, and of course, Sami Zayn. 
ADVERTISEMENT
Article continues below this ad
"I'd have to go through the history of Elimination Chamber matches, but the lineup feels very, very different. It has a very different feel from any other Elimination Chamber match I've ever heard about," admitted the Superstar. 
Fans are more than excited about the event this Sunday, and we may even see a new Champion if things go South for Drew McIntyre. Sami, on the other hand, will be doing what he always does inside the chains. 
ADVERTISEMENT
Article continues below this ad