Sami Zayn Issues a Statement After Getting Into a Physical Altercation With His Documentary Crew on SmackDown
Published 03/06/2021, 6:59 AM EST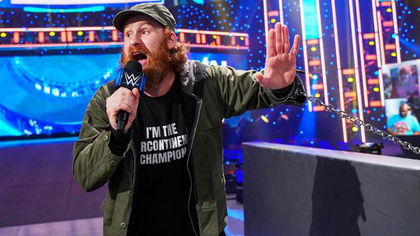 ---
---
Is the Loch Ness monster real? We can never know. Is the government hiding the truth on aliens? Who can say? Is WWE ruining Sami Zayn in the grandest scheme of them all? We find out new information every week. 
ADVERTISEMENT
Article continues below this ad
The great conspiracy theorist of WWE cannot get enough of the company that he claims is up in cahoots against him. With paranoia rising over the limit, 'The Great Liberator' hired a documentary crew to record everything that happens to him inside and outside the ring.
ADVERTISEMENT
Article continues below this ad
The idea is to catch WWE in the act of conspiring against him, and he feels that he can prove it with video evidence. The crew has been religiously following him around, and he insists that they record the surroundings even during matches. 
However, on the latest episode of SmackDown, he attacked one of the crew members as he completely snapped. Zayn did not recognize one of those members and brutalized the innocent man thinking WWE had sent him as a spy. 
Sami Zayn ended up losing the fight to King Corbin and is livid with everything that is turning against him. He is still convinced that the man was a mole and that WWE is brilliantly infiltrating his attempts and catching them in the act.
What if Sami Zayn has been right all along?
Everyone has Sami Zayn pegged down as a hyperactive, paranoid man who seems in over his head in his accusations, claiming WWE is behind his failures rather than accepting his own mistakes.
However, there may be a slight bit of truth behind the madness that is Sami Zayn. 
Adam Pearce has emerged as the new yet unnamed head of matches in WWE. He isn't a general manager but has a backstage role and is clearly responsible for setting up matches. Yet, no one knows what he really is.
ADVERTISEMENT
Article continues below this ad
On the latest episode of NXT, he even engineered the loss of Dakota Kai and Raquel Gonzalez against Nia Tax and Shayna Baszler by making the referee count an illegal tag! This ensured the WWE Women's Tag Team Championship stayed on SmackDown
With the way everyone thinks it's a 'screwjob', we could be looking at Adam Pearce transitioning into a Mr. McMahon kind of character. An authority figure like him, playing an important role in the outcome of matches, was precisely what Vince McMahon did during his role in the Attitude Era. 
ADVERTISEMENT
Article continues below this ad
If this turns out to be true, it will prove that Sami Zayn isn't crazy after all. Well, maybe a little less crazy rather than at all.