Sami Zayn Joins Forces With Logan Paul to Expose WWE
Published 03/19/2021, 9:11 AM EDT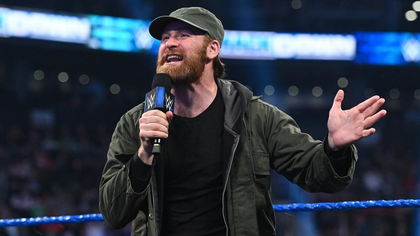 ---
---
Sami Zayn is out to prove that WWE is conspiring against him and is deliberately trying to sabotage his career and reputation in the wrestling industry. The Superstar has set out on a one-man mission with a documentary crew to accomplish this and claims to have made significant progress. 
ADVERTISEMENT
Article continues below this ad
It seems as if 'The Untouchable' has found a useful ally to support his cause. In a recent interaction on Twitter, YouTuber Logan Paul agreed to see Sami Zayn's documentary when it's released! 
ADVERTISEMENT
Article continues below this ad
The former Intercontinental Champion could not be more elated. Logan Paul has a vast YouTube fan base and millions of people viewing his channel. If he gives Zayn the platform he needs to expose the corrupt nature of WWE, he can actually achieve his goal. 
Sami Zayn confirmed that his documentary is on schedule
Sami took to Twitter to send a screenshot of his chat with a member of his documentary crew. As you can see below, Zayn has notched down Logan Paul as a member of his team already and is determined to use his huge fanbase to spread his documentary. 
The crew member also confirmed that the documentary's release is on schedule, and there have been no delays. Right now, it seems as if everything is going Sami's way in his quest against WWE. 
The alarming thing is a part of the previous conversation above the chats. As you can see, Sami actually had plans to 'stalk' someone, presumably a corporate figure in WWE. He called it off due to the realization of consequences, but you never know what goes on inside that head. 
No one would want to be the person to open the blinds, and catch Sami Zayn staring at them. Although, it is clear that he is willing to push any boundary to prove this insane yet mildly believable theory. 
Sami Zayn is hell-bent on exposing WWE's 'plot' against him
ADVERTISEMENT
Article continues below this ad
Ever since his return to SmackDown, 'The Untouchable' has been claiming that WWE is trying to 'screw' him and ruin his career. His dropping the Intercontinental Championship to Big E only aggravated the entire thing, and it's safe to say that he's on the borderline of mentally unstable. 
Zayn's fits have been getting more and more dangerous, and he even claimed that the referee was in on the monkey business by counting too slow in his match against Big E. 
ADVERTISEMENT
Article continues below this ad
Only time will tell if the Logang supports Sami Zayn, or if his hard work ever sees the light of day.