From Ric Flair to Shawn Michaels- Every WWE Legend That Has Retired at WrestleMania
Published 03/14/2021, 9:00 AM EDT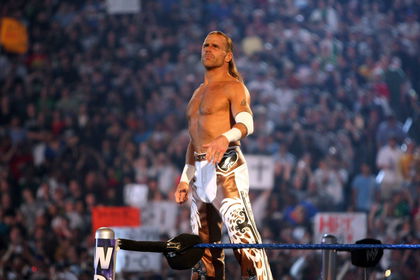 ---
---
WrestleMania is the grandest stage of them all, and legends are forged through the fire and anvils of this test. Only the best in the business get to compete at this stage, and main eventing WrestleMania is a once-in-a-lifetime opportunity for most WWE Superstars.
ADVERTISEMENT
Article continues below this ad
That being said, a lot of legends decided to go out at the top and hang their boots after one final dance at the biggest stage of them all. Here is a list of WWE's greatest stars that fought their last match at WrestleMania.
1. Mick Foley
ADVERTISEMENT
Article continues below this ad
Mick Foley did not have the exit of his dreams as he faced Triple H, The Rock, and Big Show at WrestleMania 2000. The hardcore specialist did not have as bloody an affair as he did with The Undertaker, Randy Orton, and Edge but did manage to make Triple H fight for his life.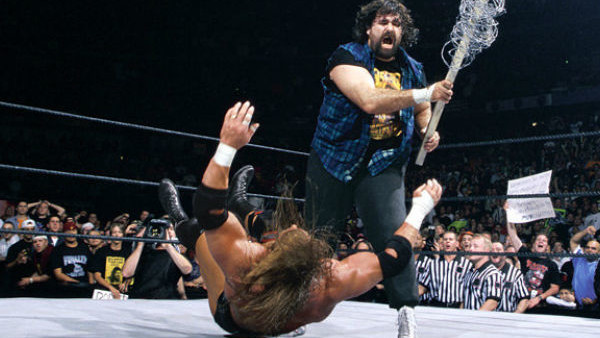 In his last ever match for WWE, known to fans since before it started, Foley lost to Triple H following a cruel Pedigree to the steel chair. He did, however, receive a huge ovation for his contributions to the business and for putting his body on the line so many times. 
2. Ric Flair
Flair is one of the greatest of all time and has seen 4 generations and eras of wrestling throughout his career. Deciding to have one last round at WrestleMania 24, Ric Flair faced Shawn Michaels with the stipulation that he had to retire if he lost. 
A 54-year-old Flair managed to give Shawn a good fight and surprised a lot of fans. He showed the WWE Universe the true old-fashioned wrestling style one last time before he got caught with a Sweet Chin Music out of nowhere. 
Michaels primed himself in what was one of the most emotional moments in WWE history. HBK was then seeing saying "I'm sorry, I love you", before hitting 'Nature Boy' with another Sweet Chin Music for the pin.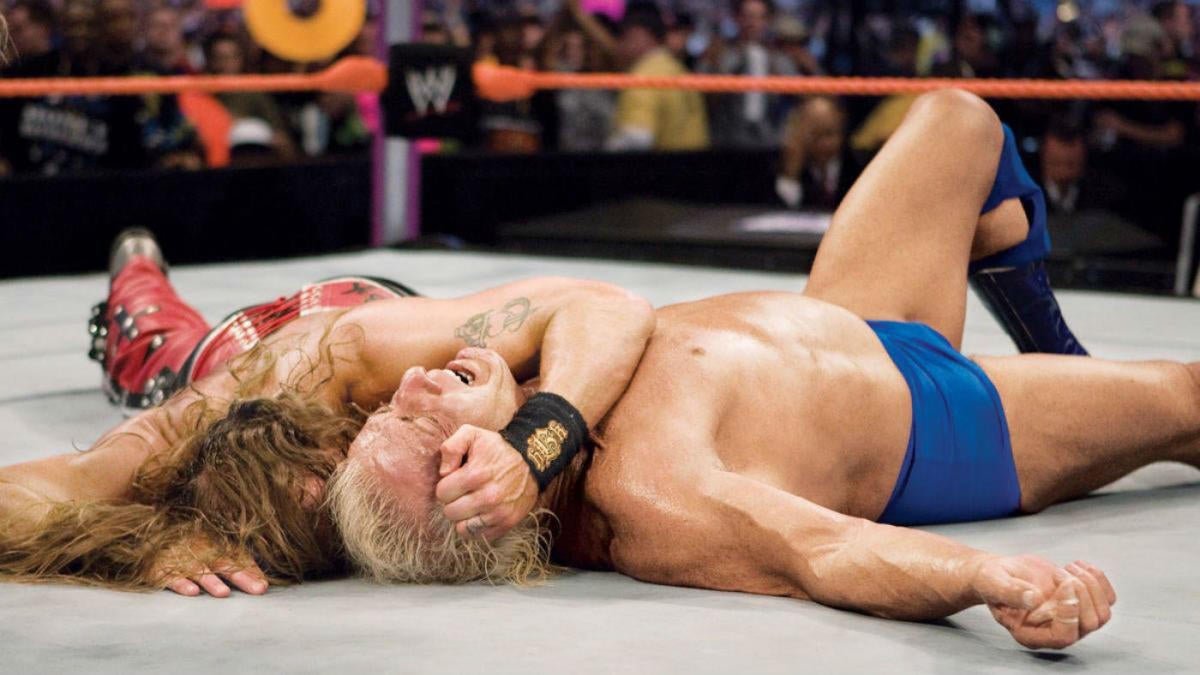 3."Stone Cold" Steve Austin
'The Rattlesnake' had been the most popular Superstar in WWE history, dominating the ring and defining the Attitude Era with his work. However, all good things must come to an end and Stone Cold saw himself entering a new era of which he could not be a part.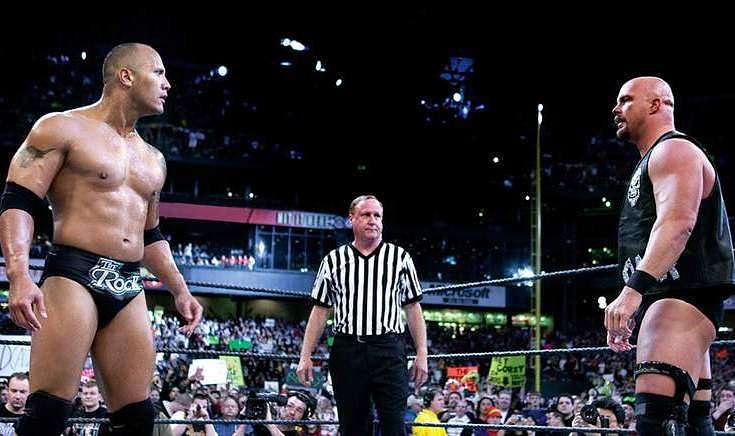 He went out in a final battle against his arch-nemesis The Rock, whom he had feuded with at 4 WrestleManias before this one. The mutual respect between the two showed at WrestleMania 19, when 'The Brahma Bull' delivered the final Rock Bottom, pinning Stone Cold and establishing himself as the new face of WWE. 
No one knew this would be Austin's last match, which makes it all the more memorable. 'The Rattlesnake' walked out quietly and perfectly the way he intended, and with the bell, the Attitude Era had come to an end.
4. Randy Savage
'Macho Man' went out of WWE under the heel of 'The Ultimate Warrior', but it was an ending to remember. Savage was in a bigger picture storyline which involved him ditching his old lover Miss Elizabeth for a new woman, Sensational Sherry.
After the loss, the latter furiously abandoned him, while Miss Elizabeth stayed behind, proving that she was the one who truly cared for him. The two reunited in a moment that brought tears to the eyes of fans watching. He may have lost the match, but he won something far more important.
5. Shawn Michaels
'The Heart-Break Kid' retired Ric Flair, and now his death knell had come in the form of 'The Deadman'. Shawn Michaels had failed to break the streak at WrestleMania 25 and wanted another shot at it under any circumstance. 
So, like a desperate man selling his soul to the reaper, Michaels wagered his career in the challenge to The Undertaker, a deal that 'The Deadman' gladly accepted. 
HBK put on a lionhearted performance against Taker and kicked out from the Tombstone more than once. 'The Phenom' miraculously kicked out of two Sweet Chin Musics as well! 
However, in the end, Taker got the better of his foe, and Shawn Michaels, in a final symbol of defiance, slapped The Undertaker before being driven into the mat with a devastating Tombstone.
Although Michaels did return in 2019 at Crown Jewel, many prefer the WrestleMania 26 fight against The Undertaker to be the last. It is also considered to be the best WWE match of all time.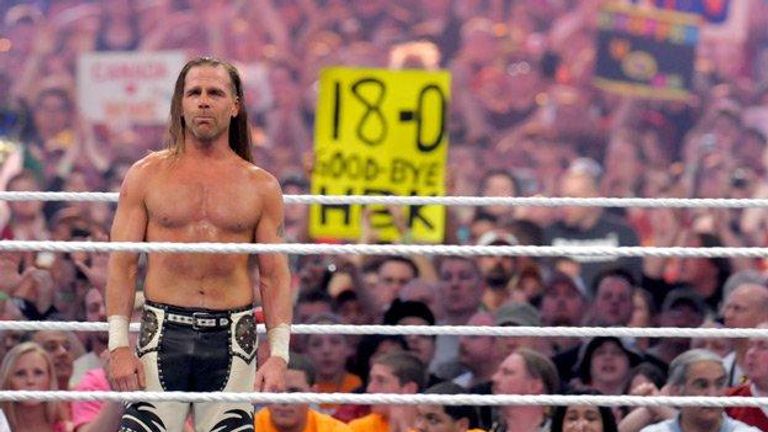 6. Other Notable mentions
ADVERTISEMENT
Article continues below this ad
John Bradshaw Layfield, or JBL in short, decided to 'Quit' WWE after his loss to Rey Mysterio at WrestleMania. However, he continued appearing as a commentator, a role he maintains occasionally to this day. 
Brie Bella deicide to go out on a high and ended her career after winning the match for Team Total Divas at WrestleMania 32. She and her sister Nikki Bella have teased a return to the ring and fans are still anticipating that comeback if it ever happens.
ADVERTISEMENT
Article continues below this ad
Batista officially called it quits from WWE after his loss to Triple H at WrestleMania 35. 'The Animal' was once the face of the company and decided to go out with that same energy. He has made up his mind to continue in Hollywood and has denied the chance of any comeback.