"That Wouldn't Fly Now"-WWE Hall of Famer Kurt Angle Opens Up on a Controversial Segment With Triple H
Published 04/10/2021, 1:49 PM EDT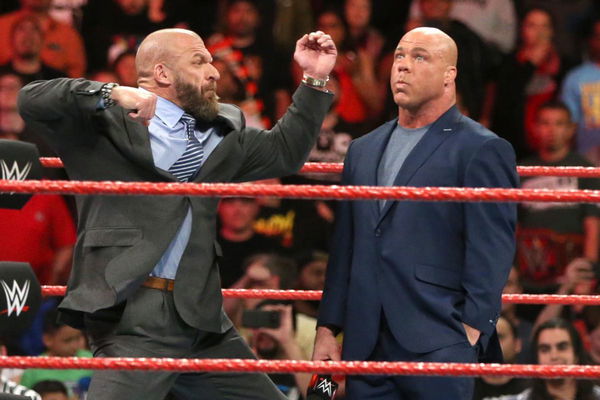 ---
---
Kurt Angle was one of the biggest names in WWE in the early 2000s and when he won the WWE Championship less than a year after joining. This position connected him with some of the biggest talents such as John Cena, Brock Lesnar, and of course, Triple H.
ADVERTISEMENT
Article continues below this ad
The entire angle with Stephanie McMahon really made things personal in the storyline against 'The Game', and there was a segment in which Triple H accused Kurt Angle of being gay, as an instigating remark. 
ADVERTISEMENT
Article continues below this ad
While this sort of a rib may have been a casual practice over a decade ago, times have changed, and it is controversial to make these kinds of remarks especially on a public show. 
Speaking on The Kurt Angle Show, the WWE Hall of Famer opened up about how this segment would never see the light of day in current times.
"No, not the gay comment. This was not going to happen, not now. But you know, we have a lot more freedom to express ourselves differently and to say things that were offensive that wouldn't fly right now and you know what, I kind of liked it but at the same time I understand why things have changed," Angle said. 
"I just think that it was a lot easier in the time in the business back then to be able to do this and now you don't have a lot of choices."
WWE did more than the Kurt Angle-Triple H segment
ADVERTISEMENT
Article continues below this ad
WWE did have some pretty explicit content back in the day which definitely wouldn't pass with today's audience. Following WWE Network's move to Peacock, the controversial hall black face paint of Rowdy Roddy Piper was deleted from the available footage. 
WWE also had an awkward segment with Edge and Lita in bed in the middle of the ring, and some pretty questionable match stipulations during the Divas era. Needless to say, the product has evolved a lot from then and things have been a lot more streamlined. 
ADVERTISEMENT
Article continues below this ad
That being said, the Attitude Era would never have been glorified in today's audience as much as it had back then. The reason for this is that the 1998-2002 era was rife with a lot of sexual innuendos and call-outs which may not have been received well in today's audience.