"That's Cena's Fault"- Carlito Explains How John Cena Convinced Him to Use the Backstabber as His Finisher
Published 06/09/2021, 9:29 AM EDT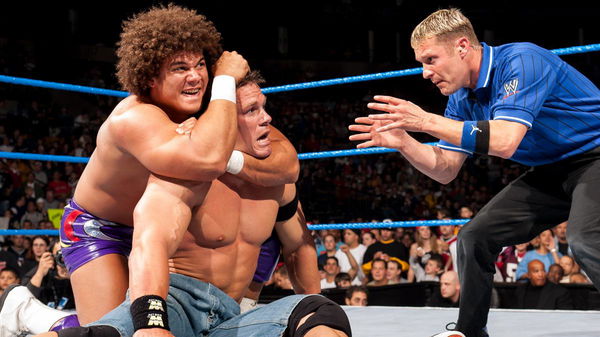 ---
---
Carlito was pushed as a top star while WWE was emerging out of the Ruthless Aggression Era and into the PG one. Making a thunderous debut as a top heel by beating John Cena in his first WWE match, Carlito became notorious and clicked well as the 'bad guy'. 
ADVERTISEMENT
Article continues below this ad
'Caribbean Cool' always managed to wrap a fist around his words and was known for his finisher, the Backstabber, which became increasingly popular after his use of it. 
ADVERTISEMENT
Article continues below this ad
Speaking on Rewind, Recap, Relive, the former WWE Superstar explained why he used the Backstabber of all moves as his finisher. He credits his old rival John Cena for convincing him to make that move his own.
"The Backstabber, that's [John] Cena's fault. I just thought it was a cool move and Cena kept on pushing it on me, 'That's gotta be your finisher, that's gotta be your finisher.' 'Yeah, but I gotta do that every night' and he's like, 'Yeah, but it's a cool finisher' and I was like, 'Alright' so I guess I gave in because you know, my first couple of years when I came to WWE, I didn't have a finisher," Carlito explained. "I was doing different things."
"So I said, 'Yeah, alright'. So I kind of said, 'Alright, it's a cool move, nobody else does it. I mean, let me go ahead and use it and solidify it as my own finisher.' Seems like everybody started using it after I left," he said. (h/t  POST Wrestling)
Carlito did not reach his full potential in WWE
Carlito managed to make great headway into the WWE Universe and became the United States as well as Intercontinental Champion during his push. He even managed to capture the Tag Team Championship twice with Primo.
However, things did not age well for him and he was released due to his failure to follow WWE's protocols. He didn't return at Royal Rumble earlier this year and on the episode of Raw following that but we haven't seen him or the iconic apple since then. 
ADVERTISEMENT
Article continues below this ad
Watch this story: Six Superstars WWE Legend The Undertaker Trapped in His Casket
Currently, the Backstabber is still used in WWE as part of Superstar moves. Although, nobody equips it as a finisher. Sasha Banks comes close to that as she uses a Backstabber as a tee-up to her Bank Statement submission hold. 
ADVERTISEMENT
Article continues below this ad
Cedric Alexander also uses an exciting modification of the move during his finisher, known as the Lumbar Check. The Backstabber may never be used as a finisher again, but fans will never forget Carlito silencing his opponents with it.