The Identity of Retribution Member Possibly Revealed
Published 08/09/2020, 8:12 AM EDT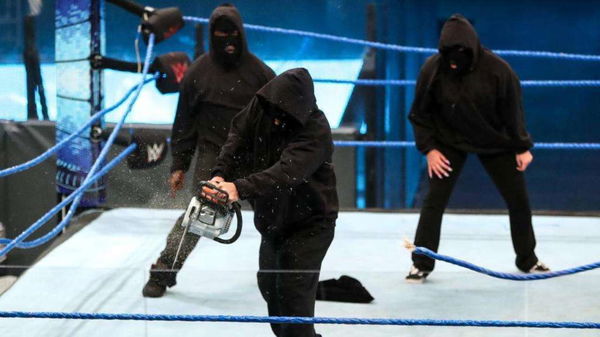 ---
---
Following the recent episode of Friday Night SmackDown, a lot of rumors have been sparked, mostly revolving around the new faction, the one they call Retribution.
ADVERTISEMENT
Article continues below this ad
Now we don't have a single clue over who the members are since they are dressed in black from head to toe, and they all wear hoodies and masks. 
ADVERTISEMENT
Article continues below this ad
What we do know is that they are going to be notorious for both brands, since they also caused a lot of problems on Raw last week by trashing the power transformer.
While everyone is eager to know who all are behind the masks, we may have a major hint over one of these members' identities. 
When Retribution invaded Raw, we could distinctly hear a female voice. This was re-confirmed when the faction invaded SmackDown. Only this time, we got a much clearer view. 
The female was seen to have long, brown, and curly hair which have fans convinced that it is an NXT Superstar. This could be none other than Vanessa Borne, who has been out of action for nearly a year. 
Now I'm not posting spoilers because I'm not an "insider" or have a "source" in WWE…

But I saw that one of the members of RETRIBUTION has curly hair…

And then I remembered…

Vanessa Bourne hasnt been on NXT in over a year…maybe she's involved.#SmackDown pic.twitter.com/KeTEA4uW68

— The Mighty (@JamTheMighty) August 8, 2020
Fans have no clue about the identities of Retribution members
Retribution would be a great way for her to make her return which makes the theory all the more plausible. Despite the theory, however, the only thing tying the masked character to Borne is the same type of hair, nothing else.
The members have done an excellent job covering up their faces and identities. Even though one member got up close and personal with the cameraman, we couldn't identify him or his voice.
Retribution absolutely wrecked SmackDown, using a variety of weapons, the most dangerous being the chainsaw. They damaged the plexiglass, attacked the camera crew, and even vandalized the ring.
ADVERTISEMENT
Article continues below this ad
This faction may go on to be the next Nexus, hopefully, and has already started pulling the curiosity of the WWE Universe. We can only wait and watch its journey.
The writers have done a good job making Raw interesting again by introducing a lot of fresh ideas. Raw Underground, MVP's new faction, and Randy Orton vs Drew Mcintyre have all made it a spicy show which can boost ratings once more.
ADVERTISEMENT
Article continues below this ad
Coming back to the original topic, there's just one female member of Retribution as far as we know. She'll have to do a better job concealing her appearance since fans have already got their first clue.