The Miz Reveals Vince McMahon's Reaction to His Huge Promo Botch in 2006
Published 04/26/2021, 9:34 AM EDT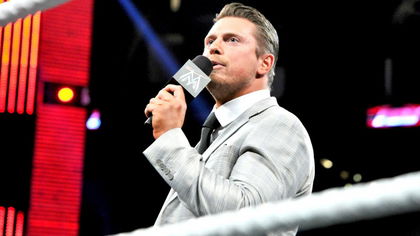 ---
---
The Miz may be one of the best heels WWE has ever seen. Known for his flawless promos and unique ability to manipulate the crowd with a flick of his wrist, Miz is a true legend. But like Picasso took years to draw perfect shapes, 'The Awesome One' had his pit stops too.
ADVERTISEMENT
Article continues below this ad
In Miz's case, it wasn't so much as a pit stop than it was a fall down a ditch during his crucial promo on Friday Night SmackDown. As a starting job, he was given the role of hosting the competition for the best Diva in the business and had an entire talent search built around it. 
ADVERTISEMENT
Article continues below this ad
The final job was to step out in front of a live audience on Friday Night SmackDown and ask fans to vote for their favorite Diva. This is when 'The Awesome One' experienced his first major setback. 
The audience almost immediately disengaged from The Miz as he fumbled. To top it all off, he even forgot the phone number that the audience had to dial, leading to a major mess of the entire event. 
Visibly nervous and all clamped up, The Miz rushed backstage as the event proceeded. The former WWE Champion then revealed his confrontation with Vince McMahon, the Chairman of the company. 
Vince McMahon gave The Miz a second chance
McMahon decided not to fire him but instead gave him another chance on the next episode of SmackDown. This decision was one he probably never regretted. 
ADVERTISEMENT
Article continues below this ad
The Miz became of the best promo workers in WWE history, behind only The Rock. His flawless charisma on the mic and natural heel ability saw him rise to a talent worthy of a WWE Championship push, which he got years later. 
It's not about how many times you fall, but it's about how many times you get back up. And 'The Awesome One' made sure never to disappoint McMahon ever again. 
ADVERTISEMENT
Article continues below this ad
On the bright side, Miz met his future wife Maryse on the talent search, who was then a beginner and couldn't speak English fluently. However, her ice-cold promo skills convinced WWE to give her a chance, and she proved her mettle on the main stage, much like her husband.