"There Was So Much Stress"- Michelle McCool Recalls Receiving Heat for Dating The Undertaker
Published 03/24/2021, 10:38 AM EDT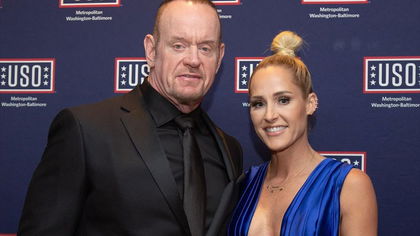 ---
---
Michelle McCool was one of the most dominant female Superstars in WWE during the last decade. Before the women's Evolution, Superstars like her, Beth Phoenix, and AJ Lee took over the division and made the most of their talents on the Divas scene. 
ADVERTISEMENT
Article continues below this ad
However, the competition was at its peak then, and the female wrestlers had to go through a lot to earn their spot on TV. The chip on McCool's shoulder grew a lot heavier as soon as she began dating WWE legend The Undertaker. 
ADVERTISEMENT
Article continues below this ad
The relationship brought her a lot of heat backstage, and many accused her of being on TV because of him. Speaking on a recent episode of Chasing Glory with Lilian Garcia, the former WWE Divas Champion opened up about these troubled times. 
"Being in the business when you know, it was very stressful, like I said, it wasn't as Kumbaya as it is now or seemingly is. We fought and clawed our way on the TV screens week after week and then it also wasn't cool at the time to date a top guy," said McCool.
"So I had to struggle with the heat of being with Mark (Calaway) and that's the only reason I was on TV and blah-blah-blah, and that's what people you know, some of my co-workers were even saying," McCool revealed. 
Michelle McCool was denied a lot of matches and storylines
Michelle McCool also noted that a lot of potential storylines and matches that were mapped out for her were canceled for no apparent reason. She later learned that her opponents requested for the ideas to be dropped due and made excuses for the same. 
She attributed those to her dating Taker and was disgusted by the fact that they never confronted her about it. 
"It was always hard for me to enjoy those moments when there was so much stress on the outside taking place, what felt like a 100% at the time," she concluded. 
Michelle McCool is happily married to Mark Calaway, and the two also have a daughter Kaia. Calaway himself finally laid down the burden of his role at Survivor Series 2020 in an emotional farewell speech. 
ADVERTISEMENT
Article continues below this ad
He seems to be enjoying life in retirement, sitting upon a legacy far greater than any other Superstar to ever enter the WWE ring. You can watch McCool's entire interview below:
ADVERTISEMENT
Article continues below this ad