WATCH: Nia Jax Slips on Chalk in Major Ringside Botch on WWE Raw
Published 04/26/2021, 11:37 PM EDT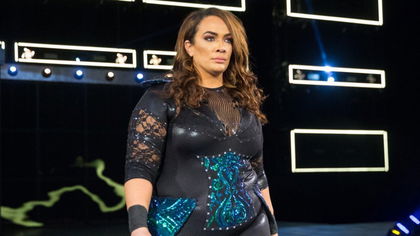 ---
---
Nia Jax and Shayna Baszler may be the Women's Tag Team Champions and may also be undisputed in that regard, but this in no way means that luck is on their side. In fact, Nia Jax has been plagued with nothing but bad luck ever since the Raw after WrestleMania. 
ADVERTISEMENT
Article continues below this ad
At the grandest stage in Tampa Bay, Florida, Mandy Rose slipped on the ramp while walking down the ring due to the slippery platform, and fans joked about the moment for days after. 
ADVERTISEMENT
Article continues below this ad
Jax also took the opportunity to troll Rose. However, since then, she has had her own streak of bad luck and has been tripping all over the ringside area! 
On the latest episode of Monday Night Raw, Nia and Shayna Baszler teamed up with Raw Women's Champion Rhea Ripley to take on Asuka, Lana, and Naomi. During the fight, Nia rushed to her partner outside the ring but did not notice a bucket of chalk that had fallen over. 
Jax slipped and fell straight down over the chalk, which immediately made the floor slippery. This made up quite an embarrassing moment for the former Raw Women's Champion who continues to be a laughing stock for Mandy Rose and Dana Brooke. 
Nia Jax ended up being on the winning side on Raw
However, this small detour did not derail Jax, and the team actually managed to pull off the perfect heel win over their opponents. Rhea Ripley proved to be the difference and took out Asuka and Naomi before attacking Lana, finishing her off with a pinfall victory. 
Asuka did not get her redemption against Ripley, who continues to be the dominant heel champion on Raw, answering to no one and walking around like she owns the place. Lana and Naomi had to be the battering ram to yet another loss on Raw.
ADVERTISEMENT
Article continues below this ad
There isn't really any sort of competition for the Women's Tag Team Champions as they set out on their dominant reign, but Nia Jax probably still needs a lot more than a Rabbit's foot to shake off the bad luck.
ADVERTISEMENT
Article continues below this ad
Rhea Ripley, on the other hand, has been fighting a war on two fronts. She has earned the wrath of both Charlotte Flair and the spirited fightback of Asuka and intends to shrug both off. We can only wait to watch how things escalate on Raw and who ends up walking out with the gold.