WATCH: Paul Heyman Takes a Dig at Vince McMahon and Eric Bishcoff in His Latest Rant
Published 03/21/2021, 9:45 AM EDT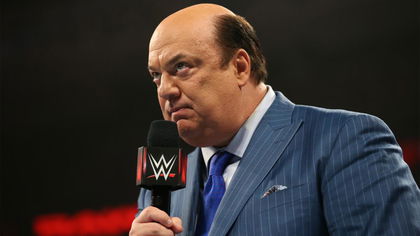 ---
---
Paul Heyman currently stands aside 'The Tribal Chief' Roman Reigns. Needless to say, he has an ego taller than the Eiffel Tower because of this association. He is confident that his current client is the best in WWE, and no one can humble him or Reigns inside the ring. 
ADVERTISEMENT
Article continues below this ad
Showcasing his newfound confidence, the 'advocate' audaciously took a shot at Vince McMahon, his own boss, on the latest edition of Talking Smack. Heyman sat down with Kayla Braxton and discussed his current position with Roman Reigns. 
ADVERTISEMENT
Article continues below this ad
He mentioned that from the 3 promoting giants of the 90s, namely Vince McMahon, Eric Bischoff, and himself, only he is the one still relevant. This is because he can still appear every week on live TV. 
Furthermore, he boasted that he has humbled his contemporaries as he is still standing by the side of the best WWE has to offer at the main event of WrestleMania! You can see his entire promo in the video embedded below. 
ECW under Paul Heyman had the most creative matches
In the 90s, three major wrestling promotions dominated the landscape, namely WWE (then WWF), WCW, and ECW. WWE was owned and run by Vince McMahon, WCW by Eric Bischoff who became president when the promotion reached its peak in 1997-98, and ECW by Paul Heyman. 
While WWE and WCW were at each other's throats, ECW provided a comfortable alternative to fans that wanted to see more than what the other two were offering. 
ECW had the reputation of hosting the most creative and likewise bloody matches. Men like Rob Van Dam and Sabu defined the promotion and produced some of the most brutal bloodbaths you would ever see. 
ADVERTISEMENT
Article continues below this ad
The diabolical ring scenarios and stipulations made the matches extremely interesting, which is why every wrestling fan remembers that brand with fond nostalgia. 
Unfortunately, ECW could never reach the heights it was capable of because of WWE and WCW's unmatched finances. The two major promotions strangled the life out of others in their quest to dominate viewership. 
ADVERTISEMENT
Article continues below this ad
Paul Heyman, however, believes that he is the true winner since 20 years down the road, he is still relevant and has the power to make an appearance at the main stage of WrestleMania. He may have lost the battle, but he surely won the war in his mind.