WATCH: The New Day Shows Up With a Hilarious Entrance to Interrupt Elias
Published 04/19/2021, 11:48 PM EDT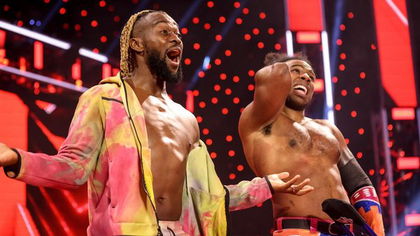 ---
---
Elias loves his musical performances and doesn't hesitate to share his talents on Raw where he performs every week. However, in recent times, we haven't heard so much of Elias' guitar as much as we've heard New Day's trumpet. 
ADVERTISEMENT
Article continues below this ad
On the latest episode of Monday Night Raw, Elias had other sound anomalies on his guitar and questioned Lance, the audio in charge. However, we soon realized it was no problem with the sound, but there was a sound problem nonetheless. 
ADVERTISEMENT
Article continues below this ad
As the camera panned out, we could see Xavier Woods on the bass guitar, using his own tunes and frustrating Elias. Kofi Kingston was by his side, laughing at the musician's embarrassment. 
Woods was plucking the strings with no plectrum, much to the appreciation of bass players worldwide, and even though he did seem to know his way around the fretboard, he seemed to know his way around Elias' nerves even better. 
This marks the second time the guitarist has been interrupted by the New Day, the first one being on the previous episode of Raw. Only that time, it was a trumpet. For all we know, the next time, we may see the drums.
Kofi and Woods certainly have a score to settle against Elias and his apprentice Jaxson Ryker. By the way things are going, we can surely expect the two teams to face off at WrestleMania Backlash, which is just under 4 weeks from now.
The New Day hasn't had a good run in 2021
The New Day is coming off a humiliating loss at WrestleMania, where they lost their Raw Tag Team Championships to AJ Styles and Omos. It seems as if they do not want to revisit that particular rivalry but have moved on to pestering Elias.
ADVERTISEMENT
Article continues below this ad
Kofi and Woods are obviously picking a fight, but we may see the worst happen to them. Angry Elias is one thing, but angry Elias is another level of danger when his performances are disturbed. 
ADVERTISEMENT
Article continues below this ad
Speaking of Elias, WWE really hasn't given him a concrete storyline for the past few months, and we could really use a refreshing angle for his character. After the feud with Jeff Hardy, this could be a potential win for WWE especially since Jaxson Ryker could also benefit from the screen time.