WATCH: When Braun Strowman Shocked Brock Lesnar With a Display of Superhuman Strength
Published 02/07/2021, 7:59 AM EST
---
---
If you take a four-year stroll down memory lane, you'll remember that Brock Lesnar dominated the WWE Universe as Universal Champion. He had vanquished every opp0nent placed in front of him and showed no mercy. 
ADVERTISEMENT
Article continues below this ad
Paul Heyman was under the impression that his client was invincible and that Brock Lesnar was the supreme force in WWE. He was extremely confident that Lesnar would beat John Cena yet again and boasted about 'The Beast Incarnate' on Monday Night Raw.
ADVERTISEMENT
Article continues below this ad
Little did Heyman know that he had provoked a sleeping monster, as Braun Strowman interrupted the promo to lock eyes with Lesnar. The 6'8" giant made his way to the ring, while Lesnar prepared to make another statement. 
However, things took an unplanned turn for the Universal Champion because Strowman was equally prepared. Brock attempted to end the fight early by sending Strowman to Suplex city. However, he failed when 'The Monster Among Men' hit him with a hard elbow.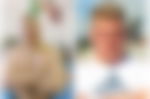 Braun Strowman was not affected by the Suplex of Brock Lesnar!
Although, Brock Lesnar got the upper hand by finally delivering the Suplex. He pumped himself up by celebrating, but as he was doing so, Strowman sat right up! 
Without taking time to recuperate, Strowman went right after the 'Beast.' He caught Lesnar by the throat and delivered a huge Chokeslam. The crowd was shocked as Lesnar sat helpless in front of his new nemesis. 
Post his decimation of Lesnar, Braun Strowman picked up the Universal Championship and held it high. He even put his large foot over the chest of Lesnar, asserting his dominance. 
This was one of the most shocking moments in WWE history. Never before had fans seen Brock Lesnar being overpowered by a stronger opponent. The vulnerability in his eyes made this one of the most iconic moments in WWE history.
ADVERTISEMENT
Article continues below this ad
The last time such humiliation was seen was when The Great Khali destroyed The Undertaker inside the ring and pinned him in the same fashion. Brock Lesnar was completely defeated, and Paul Heyman couldn't believe what he was seeing. 
Unfortunately, Braun Strowman could not win the title and was beaten by Lesnar in the storyline. Nonetheless, it was a clash of titans and a great feud for fans. 
ADVERTISEMENT
Article continues below this ad