Will Soulja Boy Face Bad Bunny Inside WWE Ring After His Heated Rivalry With Randy Orton?
Published 03/03/2021, 7:21 AM EST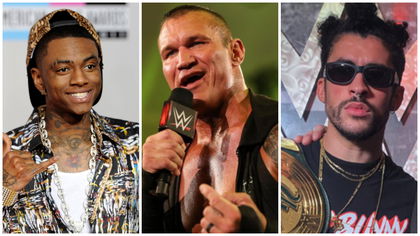 ---
---
Twitter erupted a few hours ago when WWE Superstar Randy Orton got into an intense altercation with famous rapper Soulja Boy, over an offensive comment made by the latter dearly in the day. 
ADVERTISEMENT
Article continues below this ad
Soulja Boy implied that WWE's product is fake, which earned him the heat of notable Superstars such as Alexa Bliss, T-Bar, and of course, Randy Orton. 
ADVERTISEMENT
Article continues below this ad
'The Viper' was enraged by his comments and dared him to step into the ring if he wanted to put his words to action. The rapper, however, stuck to Twitter and continued his series of tweets against WWE and also entered into an altercation with Alexa Bliss. 
All this makes us wonder whether the entire thing was pre-planned, like part of a storyline. We all know that WWE has started getting in international stars to boost business, it always has but the recent past has suggested a trend with rappers. 
Fake? Dare this prick to step up. He dont like movies? Consider us actors that do stunts, without pads 200 days a year and don't bitch when we get surgically repaired and come right back. Consider us 100 times tougher then anyone you've come across. Aint nuthin but a bitch ass… https://t.co/D3CQb9IxEO

— Randy Orton (@RandyOrton) March 2, 2021
With the incorporation of Bad Bunny into the show, we may be seeing WWE build up into something big. There has already been talk of Cardi B and Bow Wow showing up, so we cannot rule out the possibility of a heel rapper faction. 
Bad Bunny vs Soulja Boy at WrestleMania?
Soulja Boy may just be working on a script here, and it wouldn't be overstepping bounds to say that he may bring this feud to TV. We may soon see Bad Bunny compete with him and other rappers at WrestleMania.
Agreed, this claim may be a bit too far-fetched, and for all we know, there actually was an altercation between the two. 
ADVERTISEMENT
Article continues below this ad
Randy Orton was quick to explain to Soulja Boy that although the content may be scripted, the bumps wrestlers take and the pain they endure through every fight is certainly not. 
As an entertainer himself, Soulja probably should understand this more than anyone. WWE Wrestlers work over 200 days a year and train whenever they aren't working. Staying in shape is a huge task to even those used to it. 
ADVERTISEMENT
Article continues below this ad
The amount of sheer determination and patience required to make it as a WWE Superstar cannot be discounted, and for a man like Randy Orton to do it for as long as he has and still stay on top puts him at a level higher than others.