WOW! Micky Foley Finds His Extremely Rare Mr. Socko From a Well Meaning Collector on WWE's Most Wanted Treasures Show
Published 04/25/2021, 2:47 PM EDT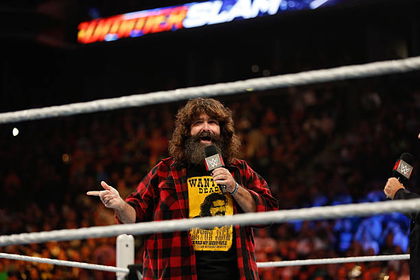 ---
---
WWE has been searching the countryside for some of its greatest lost treasures over the last few weeks, hoping to create one home for all these memorabilia. Be it the Holy Grail of the business or the ring gear of legends, WWE has expressed interest. 
ADVERTISEMENT
Article continues below this ad
Speaking of ring gear, while socks are an important piece of clothing for everyone's feet, WWE legend Mick Foley had a different use for them. He used to fit a supposedly dirty and foul-smelling sock into his hand and wear it as a weapon. 
ADVERTISEMENT
Article continues below this ad
This wasn't even the weirdest part; Foley sent that dirty sock straight into the mouths of those that wronged him, and the odor and taste of the filthy piece of cloth would render them unconscious. 
As his most famous alter ego 'Mankind', Foley lovingly called the sock Mr. Socko and even drew a small face on it! In this recent treasure hunt, the former WWE Champion himself set out to find an authentic version of Mr. Socko and bring him back home. 
Foley paid a visit to Steve "GWC" Morand, who made it clear that the 'GWC' stood for Greatest Wrestling Collection. Morand has been collecting wrestling memorabilia from childhood and has a house dedicated to storing these valued items.
Mick Foley was shown a rare version of the infamous Mr. Socko
This collector had just what Mick Foley was looking for, and this happened to be an authentic ring-worn Mr. Socko with Foley's signature.
The Mr. Socko in Morand's possession was a rare piece since it was made by WWE Prop Master Richard Posner. He typically designed the sock with round eyes and a goatee with a surprised look, unlike Foley's signature sock with almond-shaped eyes.
ADVERTISEMENT
Article continues below this ad
The former WWE Champion asked him what it would take to let go of that prized version of Mr.Socko. Morand, full of respect for the wrestling legend, agreed to part ways with his possession free of cost. 
His one request was that Foley sticks around until he could bring his children over to meet him and asked for nothing more. 'Dude Love' agreed and met Morand's children, making the day a happy memory for the collector and his family. 
ADVERTISEMENT
Article continues below this ad