Batista Admits He Would Vote for Dwayne "The Rock" Johnson as President of USA
Published 05/16/2021, 11:24 PM EDT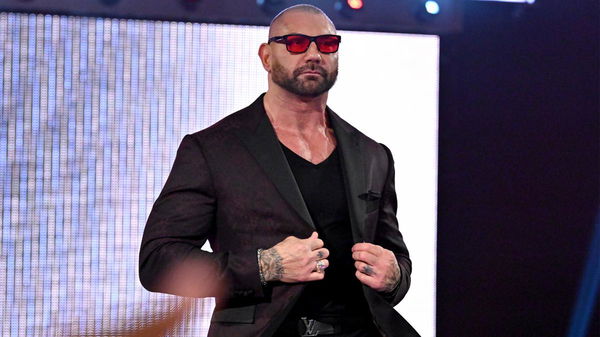 ---
---
Dwayne "The Rock" Johnson is a man that has gone from rock bottom (no pun intended) to the very top of the ladder, from being the most influential WWE Superstars of all time to one of the biggest personalities in the world today.
ADVERTISEMENT
Article continues below this ad
In recent times, he has often hinted at his desire to muster that popularity to higher purposes and run for the seat of President of the United States of America. Johnson has made no secret of his interest in politics and considers this a very real possibility.
Former WWE Champion and Actor Dave Bautista, known also as Batista, has already cast his vote in favor of 'The People's Champion'. In a recent post on Twitter, he admitted that he would vote for The Rock should he run for President in the future. 
ADVERTISEMENT
Article continues below this ad
It is safe to say that Dwayne Johnson is currently tied down with his plans in the film industry, given the huge name he has built for himself there. It probably is a sword balance when it comes to his decision to run for President.
However, we can't rule it out and he himself has entertained that thought on numerous occasions
Batista received a huge promotion from WWE for his upcoming movie
Turning back to former WWE Superstars making it big in Hollywood, Batista has been turning a lot of heads towards his latest project. 
'The Animal' will star in the movie 'Army of the Dead' set in the zombie apocalypse, in which he brings together a group of survivors. The movie will be available on Netflix and is set to bring his acting career to the next level. 
The movie has been promoted highly over the last week, earning prominent features at UFC 262 and more recently (and outlandishly) at WWE's PPV WrestleMania Backlash. 
ADVERTISEMENT
Article continues below this ad
As a promotional activity, a horde of zombies invaded a match between The Miz and Damian Priest and acted as lumberjacks. Furthermore, the zombies even 'devoured' The Miz and his partner, John Morrison. 
ADVERTISEMENT
Article continues below this ad
The PPV was sponsored by the 'Army of the Dead' team and could not make its name any clearer. Batista will undoubtedly get a lot of traffic his way in this movie, and we could be looking at WWE's next biggest film breakout star depending on how things go for him.