WWE Champion Bobby Lashley to Face Drew McIntyre in Huge WrestleMania Showdown
Published 03/15/2021, 10:07 PM EDT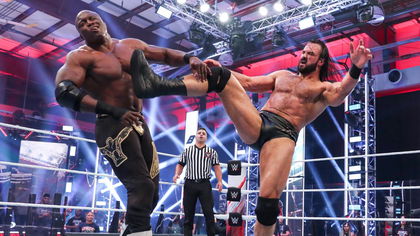 ---
---
Bobby Lashley won the WWE Championship from The Miz but has only recently learned what Drew McIntyre had to deal with as king of the roster. On the latest episode of Raw, he received a new challenge from the former WWE Champion himself. 
ADVERTISEMENT
Article continues below this ad
'The Scottish Psychopath' never got his rematch, and before he could, the title switched over the Lashley. Now, Drew McIntyre has realized that he has been occupied in personal feuds for too long and has decided to retake what is rightfully his. 
ADVERTISEMENT
Article continues below this ad
The Miz, however, continued to hold his stake on the title, so McIntyre had to go through him first. 'The Awesome One' put up a valiant display but was made short work of by Drew and had to step aside, rather painfully. 
Drew McIntyre then had his path clear and Lashley had no choice but to accept. The WWE Champion has received his biggest challenge yet and even he knows taking down a man like McIntyre will be no walk in the park. 
This fight has been announced directly for WrestleMania rather than Fastlane, and we expect it to be a huge affair. Although fans were hopeful for a Brock Lesnar return, this should suffice. 
WWE wants to give Drew McIntyre the WrestleMania he deserves
Drew McIntyre had his fairytale run as WWE Champion after winning the Championship against 'The Beast Incarante' last year at WrestleMania 36. However, no fans got to see him as Champion live in the stadium which is the biggest tragedy. 
Throughout his reign, the lockdown Champion remained instrumental to Raw and continues to do so. Since there are plans for fans to attend WrestleMania physically, WWE may want to give 'The Scottish Psychopath' the WrestleMania moment he deserves.
Bobby Lashley and The Hurt Business have been established as the strongest faction in WWE and MVP is the head of the train. However, he did play dirty and helped The Miz win the title so he could take it from a weaker opponent later. 
ADVERTISEMENT
Article continues below this ad
Instead of facing Drew himself, a rather futile effort, Lashley decided to help The Miz win it. This made it easier for him to win the title when he challenged for it.
ADVERTISEMENT
Article continues below this ad
Now, the sins of the past have caught up to him, and Drew McIntyre is back kicking on his door. We don't know where Sheamus falls in all of this, but for now, it's Bobby Lashley vs Drew McIntyre for the WWE Championship at WrestleMania.