WWE Champion The Miz Backs Out of Match With Bobby Lashley on Raw Due to "Stomach Cramps"
Published 03/01/2021, 9:57 PM EST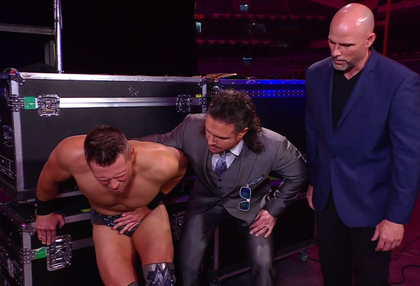 ---
---
The Miz became WWE Champion at Elimination Chamber, but to achieve this miraculous feat, he had to sell his soul to the devil incarnate. Making a deal with MVP of The Hurt Business, he received Bobby Lashley's help to overpower Drew McIntyre.
ADVERTISEMENT
Article continues below this ad
As expected, the devil has come to collect his dues, as Lashley demanded his promised title match. However, 'The Awesome One' is hesitant in keeping up with his end of the deal.
ADVERTISEMENT
Article continues below this ad
The two were booked to have a match for the WWE Championship on the latest episode of Monday Night Raw, and there was even a countdown to it. Bobby Lashley was prepared to steamroll his opponent, and the entire WWE Universe was eager to see him finally earn his moment.
Although, the match didn't take place at the original time and was postponed. As expected, Miz had played up again. The WWE Champion did not show up when his entrance song played, and MVP and Lashley started fearing the worst. 
Seconds later, the camera cut to a backstage scene which showed Miz holding his stomach in agony. He was seen in excruciating pain with John Morrison, his partner, checking up on him. 
The Miz admitted to having sudden stomach cramps
Adam Pearce quickly asked The Miz why he didn't show up, and 'The Awesome One' stated that he had stomach cramps! He added that he couldn't go ahead with the fight due to this and tried to wrangle his way out of the defense. 
A furious Bobby Lashley made his way backstage and unloaded on the WWE Champion. He then reassured Miz that he was going to have his Championship match no matter what. 
After he left, Morrison looked at a downed Miz and immediately asked for a towel. Judging by the look on his face, we can only assume the worst. 
ADVERTISEMENT
Article continues below this ad
'The Awesome One' will have to go into the fight with whatever legitimate ( or non-legitimate) problem he has and will have to defend his Championship against an opponent who believes he is unbeatable. 
ADVERTISEMENT
Article continues below this ad
Being the strategic mastermind that he is, we are eager to see what The Miz does now. By the looks of it, there is no way out for him.