"WWE Didn't Feel Confident"- John Cena Explains the Reasons Why He Never Turned Heel
Published 06/15/2021, 10:36 AM EDT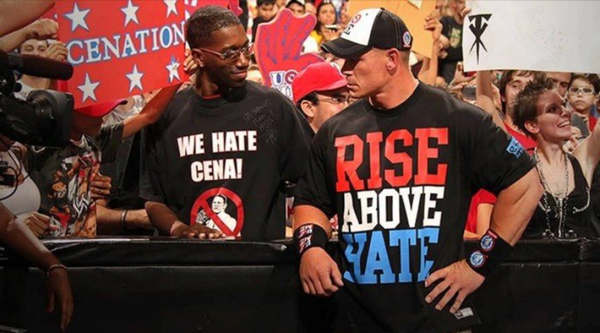 ---
---
John Cena was the face of the company for well over a decade and defined the PG era with him being the star of the show. However, not that the dust has settled on that historic run at the top of WWE, fans wonder why Vince McMahon never let Cena turn heel. 
ADVERTISEMENT
Article continues below this ad
Throughout his time in different personas, John Cena was a babyface or anti-hero at best. 'The Doctor of Thuganomics', although having the potential to be the 'bad guy', hit it home to the Championship as the hero. 
ADVERTISEMENT
Article continues below this ad
 Now, in the upcoming Fast and Furious 9 movie, Cena plays the villain, which will be his first brush on the other side. Speaking to Chris Van Vliet, the 16-time World Champion discussed how that could be a cue to his heel role in WWE in the future., 
"So I think I think this is a beginning to showcase the fact that it's possible. And you know now as WWE invests and builds its roster and has a wealth of talent, and truly has many different anchors to the ship. Now certainly Roman being a very, very marketable and definitive star. I think the reason for me not exploring that side is because WWE didn't feel confident that they had an alternative," Cena said.
"And I respect that business choice, I really do. But now with them really laying the foundation for their future I mean, even for life in the next decade or so. Maybe, maybe, I don't know."
Watch this story: Randy Orton, Eddie Guerrero and More: WWE Superstars Who Pulled Off Impressive Move Reversals!
John Cena sees the villain role as a fresh opportunity
ADVERTISEMENT
Article continues below this ad
'The Cenator' explained how Fast and Furious 9 makes him explore the other side of his personality and show that on screen. In WWE, he was never allowed to move past that heroic character arc, something he can finally do in the film industry. 
"I'm always known for my childish comedy in WWE, because it's a PG show. And then if I'm put on an R-rated comedy, everyone's like, 'Whoa, he actually cusses!' Yeah, of course, it's an R-rated comedy," Cena joked. "So it's kind of being able to give a get a new set of tools and work with those tools."
ADVERTISEMENT
Article continues below this ad
Fans hope to see John Cena in a heel role at least once before he retires from WWE. With reports of WWE being in talks for his return before SummerSlam, that may just become a reality.