WWE Hall of Famer Mick Foley Defends Roman Reigns' Promo Capabilities Under Pressure
Published 01/23/2021, 8:52 AM EST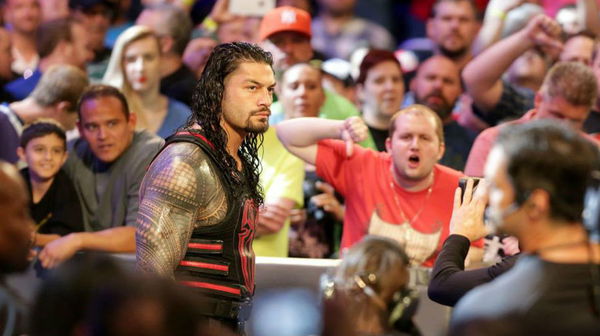 ---
---
Part of the demanding job description of WWE Superstars is delivering a good promo. Speaking in front of an audience can be tough, and Superstars have to get over their stage fright and get out there. 
ADVERTISEMENT
Article continues below this ad
Unfortunately, the crowd can be extremely uncooperative sometimes and make a lot of noise while a promo is being delivered. This is an attempt to derail the Superstar and make him/her forget their lines. 
ADVERTISEMENT
Article continues below this ad
Roman Reigns suffered this embarrassment once during a promo where the incessant booing and chants got the best of his nerves. This was quite a moment for 'The Big Dog' who wasn't exactly as popular back then as he is now. 
In a recent post on Twitter, WWE Hall Of Famer Mick Foley defended Roman Reigns, admitting how hard it is to get through the notorious chants while delivering a promo.
It can be very difficult for any wrestler to find their voice amidst a chorus of "what" chants – it's like going up to bat with the count starting at 0-2. While it's still POSSIBLE to hit a promo out of the park, those annoying chants make it a hell of a lot less likely. https://t.co/9Pii51SQ0H

— Mick Foley (@RealMickFoley) January 23, 2021
Roman Reigns was resented for beating The Undertaker
Roman had reached an all-time low in popularity when he defeated The Undertaker at WrestleMania. Fans despised the thought of Roman Reigns getting so many pushes and grew to resent his character. 
He was booed all through the promo and whenever he tried to speak, the fans shunned him out with louder chants and boos. Eventually, he riled up the crowd even more by claiming that the ring was now his yard. He then left the ring amidst resounding boos. 
The annoying 'what' chants
The 'What?' chants have been an annoying aspect of live performances, especially for WWE Superstars. They started as part of the iconic authority defying gimmick of Stone Cold Steve Austin but went on to be used regularly to derail a disliked Superstars or a hated heel.
Most recently, Vince McMahon, Charlotte Flair, and Alexa Bliss had to deal with these chants. Alexa Bliss encountered these fans multiple times but managed to turn it back on them by countering the chants with her own wit. 
'The Tribal Chief' revealed the way to deal with angry fans
Unfortunately, some Superstars are completely shunned out. Roman Reigns, however, wasn't really deterred by the hate he received and channeled it into something better.
ADVERTISEMENT
Article continues below this ad
In a recent interview with Ryan Satin of WWE on FOX, Roman Reigns revealed how one must get over the boos in WWE. 
"You gotta have some haters. You know, yeah, that's the key to success sometimes, but, but I think the true key to that success is how you handle the haters," said Reigns, "how you, you know, in your psyche, can, you know, allow them to affect you or not affect you."
ADVERTISEMENT
Article continues below this ad
Roman is now the biggest heel in WWE and although he still gets booed for his character's evil nature, he is one of the most popular Superstars in the business.