WWE Official Details the Surreal Experience of Being a Part of a Huge Match at WrestleMania 37
Published 04/13/2021, 11:23 AM EDT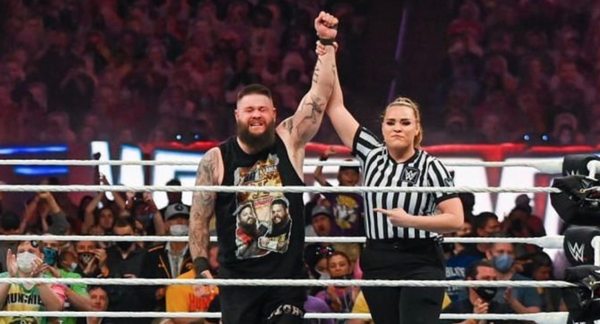 ---
---
WrestleMania is one of the biggest events for WWE Superstars as they finally get to showcase their talents on the grandest stage of them all. To feature in a WrestleMania match is something of a career accomplishment, and few get the opportunity to shine at that stage. 
ADVERTISEMENT
Article continues below this ad
Although it is all about the Superstars and wrestlers in the center of the ring, the experience is also magical for the referees that don't often get the spotlight. The men and women that officiate the match and move around with the Superstars go unnoticed and fans almost never focus their attention on them.
My first 'Mania match of my own in front of actual people. It will forever have a place as one of the best moments of my life for so many reasons. Nothing and no one can take this from me or the two amazing guys that worked for years to get there. #wrestlemania pic.twitter.com/N5RarNLcWB

— Jessika Carr (@WWELadyRefJess) April 12, 2021
ADVERTISEMENT
Article continues below this ad
In a recent post on Twitter, WWE referee Jessika Carr expressed her gratitude for being in the center of the ring at WrestleMania, and how phenomenal the experience was for her.
Carr officiated the match between Kevin Owens and Sami Zayn and had a ball of a time. Owens and Zayn took the best of themselves to each other, but it was the former that ended up winning.
To top off the perfect match, Owens delivered a Stunner to Logan Paul, who was initially supposed to team up with Sami. 
Jessika Carr is WWE's first full-time female referee
Jessika Carr is a referee now, but she was a professional wrestler and even managed to win titles on the indie scene before making her way to WWE.
The 29-year-old is the first full-time female referee in WWE history and is setting an example with the leaps and bounds she's been making so far. 
Although referees don't really get a moment at any stage, it is entertaining when they do get involved in matches. Referees will occasionally strike back at an imposing Superstar if they get too pushy. 
Furthermore, referee Charles Robinson, one of WWE's best knows officials, became the subject of thousands of memes following his heroic run down the ramp at WrestleMania 24 to deliver the count for an attempted pin by The Undertaker on Edge.
ADVERTISEMENT
Article continues below this ad
Jessika Carr isn't the first female referee to receive praise for her work. AEW referee Aubrey Edwards has also established herself as an in-ring personality with her stern look and ability to control aggressive Superstars. 
In spite of not getting as much a spotlight as the winner and loser of the match, referees play an integral role in the business and do deserve every form of recognition they get and more.
ADVERTISEMENT
Article continues below this ad
Trending Stories