WWE Universal Champion Roman Reigns Reveals His Favorite Sneakers
Published 03/09/2021, 6:45 AM EST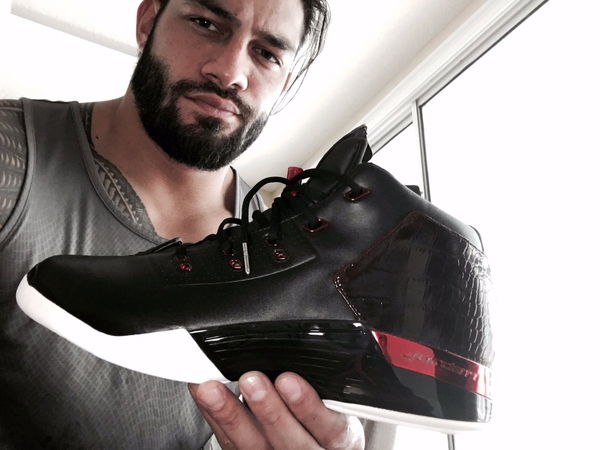 ---
---
WWE Superstars often like sporting iconic fashion choices, and New Day has personified that through their attire. However, there is another man who loves his choice of ring attire, and that is Roman Reigns with his sneakers. 
ADVERTISEMENT
Article continues below this ad
Believe it or not, 'The Tribal Chief' is a sneakerhead and loves his selection of them when he makes his way to the ring. In a recent meet-up with Complex, the WWE Universal Champion revealed his favorite sneakers and the reason behind his choices. 
1. Nike Air Griffey Max 1 "Freshwater"
ADVERTISEMENT
Article continues below this ad
This selection stems from Roman's admiration of baseball outfielder Ken Griffey Jr. 
"I think people need to put a lot more respect on Griffey," said Reigns. "He was like, I don't know, maybe it's just my age group, but yeah, just the athlete and who he was. And like within the game and America, I just feel like in sports."
2. Nike SFB Canvas 6 inch
At Fastlane 2017, Roman Reigns took on a beastly Braun Strowman in one of the biggest matches of the night. 'The Big Dog' put on an impressive display, but fans were more attracted to his sneakers. 
It's not every day that you see a WWE Superstar wearing sneakers into a fight, but Reigns felt a lot lighter on his feet wearing these, and the comfort increased his performance exponentially. 
"The main thing was for me is, because the regular boots that I wear, they come up a bit higher. They're like, 8-inch, 9-inch that comes up right below the calf," explained Roman. "So I had to like, put ankle braces and kind of make it work for me for the performance."
"But man, they felt good. Yeah, they were lighter. The soul was a lot more, a bit more cushion. Those Nike boots are nice too, that I wear. But man, the White Silver, I think that's a classic load. I don't think it's ever going to stop."
3. Air Jordan 4 "Black Laser/Gum"
Roman Reigns wore these iconic boots when he walked out to announce to the WWE Universe that he was in remission which was one of the most heartwarming moments in WWE history. 
"I felt so much confidence and just so much gratitude. I think that was one of those situations where I was able to kind of come out of the Roman character and just be Joe," admits Reigns.
"And that's why you saw me the way I was, that's why I was wearing Jordans. Just kind of a casual look for the most part. For that moment I kind of took that character armor off and exposed the real me and gave them a piece of me," said Reigns.
5. Jordan 6 Rings "Fitness Red"
ADVERTISEMENT
Article continues below this ad
Although 'The Big Dog' loves his Jordan 6 Rings"Light Graphite" pair, he has his eyes on the "Fitness Red", which is unfortunately sold out of Nike stores online. 
"It's just something about this red layer down here, It's just fresh. And it's sold out on Nike so I was looking, I think like the GOAT app or something like that. But maybe, maybe my people will make it easy putting it out there," joked Roman.
ADVERTISEMENT
Article continues below this ad
Roman loves his sneakers and if we're lucky, we may just see him walking out with the "Fitness Red" colorway soon on SmackDown.