"You're Always Afraid"-John Cena Names Brock Lesnar as His Toughest Ever WWE Opponent
Published 03/15/2021, 11:40 AM EDT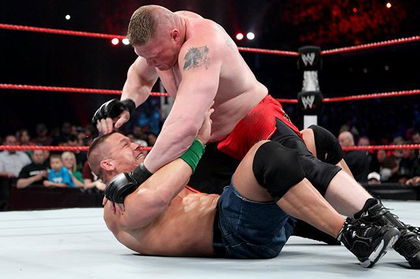 ---
---
John Cena has had some of the toughest and bloodiest matches in the ring. In his heyday, he faced a Batista, Triple H, Randy Orton, and even a prime Great Khali and came out victorious in all three, overcoming the odds. 
ADVERTISEMENT
Article continues below this ad
However, his most challenging moment was when he squared off, toe to toe, with 'The Beast Incarnate', a moment which will make any man tremble. 
ADVERTISEMENT
Article continues below this ad
John Cena is the man everyone looks up to when it comes to stopping bad guys, but 'The Cenator' himself was shaken when he felt the heat against Brock Lesnar. 
In a recent interview, the 16-time World Champion named Lesnar as his toughest opponent, describing him as the epitome of boss battles.
"He is big, he is bad and he is mean and he was easily my toughest match," admitted Cena. "Now, I've had some moments where I've done okay against him and I've had some moments where I've not done okay against him."
"And the greatest thing about having a match with Brock Lesnar, you're always nervous and you're always afraid because he's stronger than everybody," explained Cena, "but you're still brave enough to go in there and do it and win or lose, you try your best."
Brock Lesnar holds a great record against John Cena
John Cena faced this powerhouse on multiple occasions throughout his career and whenever the two settled their differences one-on-one, it was quite a spectacle.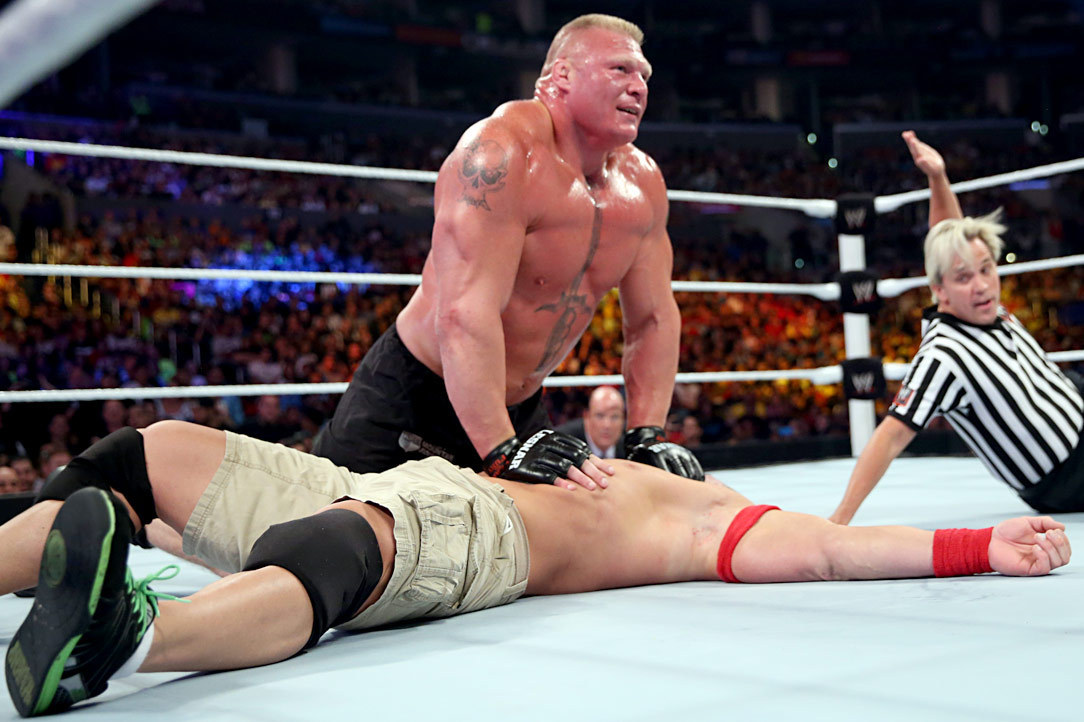 Brock Lesnar humbled Cena all the three times they faced each other in the Ruthless Aggression Era. While they joined WWE at roughly the same time, Lesnar was far more evolved as a machine and managed to best the future face of the company thrice. 
ADVERTISEMENT
Article continues below this ad
They met again in 2012, nearly a decade after their first interaction when Lesnar returned to WWE. A much more established Cena managed to halt the relentless attacks of his foe and overcome the battle of attrition to win at Extreme Rules 2012. 
However, in 2014, Lesnar made short work of Cena in one of the few times we ever saw 'The Cenator' manhandled. Cena would win their next fight the same year by Disqualification but failed to recapture the World Heavyweight Championship. 
ADVERTISEMENT
Article continues below this ad
In their last ever encounter involving Seth Rollins, Brock Lesnar came out on top by pinning the third party. This marked the final face-off between these two, and by the looks of it, may have been the last time.