Mustafa Ali Reveals the Reason for Joining Retribution
Published 10/06/2020, 10:03 AM EDT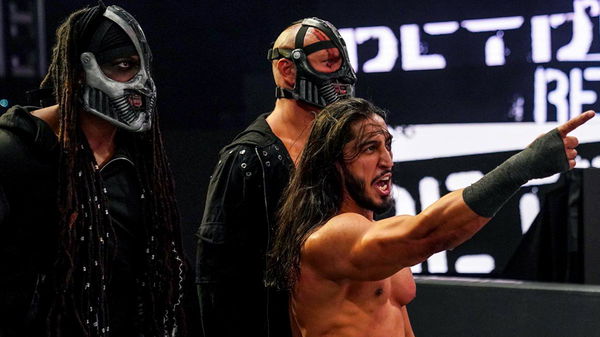 ---
---
In the latest episode of Monday Night Raw, WWE gave us the biggest shocker that we truly never saw coming. In yet another Retribution raid, the real leader of the faction was revealed. This leader was none other than Mustafa Ali.
ADVERTISEMENT
Article continues below this ad
Over the past two weeks, everyone believed that the leader of the masked faction was T-Bar. However, this was just a facade. Following this shocking revelation, Mustafa Ali released a statement on Twitter.
ADVERTISEMENT
Article continues below this ad
Ali has been vastly misused in WWE. His move from SmackDown to Raw did him no favours. Soon, one of the biggest talents in WWE found himself ans a competitor on WWE Main Event, a show that doesn't get as many viewers as WWE's three big brands.
Although he did make a Raw comeback, no one in the entire WWE Universe suspected that Mustafa Ali himself was the mastermind behind Retribution.
This was probably because of the fact that almost everything bout the mysterious faction was revealed. The supposed leader, T-Bar, formerly known as Dominik Dijakovic, was the hot topic on Twitter.
T-Bar was the perfect cover for Mustafa Ali
He lashed out at every one that came in his way, trolling AEW Superstars like Chris Jericho and WWE Hall of Famer and current AEW member Eric Bischoff.
The hilarious tweets from T-Bar earned him a sort of fan following of his own. However, it seems as if he too has been answering to someone all this time. 
The fact that Mustafa Ali is the leader of Retribution makes perfect sense. The purpose of the masked members is the fact that they have been neglected by WWE writers and have not been give a place.
ADVERTISEMENT
Article continues below this ad
The one most affected by this is Ali. From being a very promising talent, WWE downgraded him to being off all main rosters. He has certainly plotted his revenge in style and will dourly make a big impact now.
There are a lot of speculation linking Ali to SmackDown's mystery hacker. However, those ends have still been left loose and it probably won't play out that way.
ADVERTISEMENT
Article continues below this ad
It's great to finally see a Raw talent get a major push. We can only wait and see how far Retribution goes. Can they clear the bar set by Nexus and DX before that? We will have to keep watching Raw to find out.