WWE Universe Goes Wild After the Insane Randy Orton-Ric Flair Segment
Published 08/11/2020, 12:42 AM EDT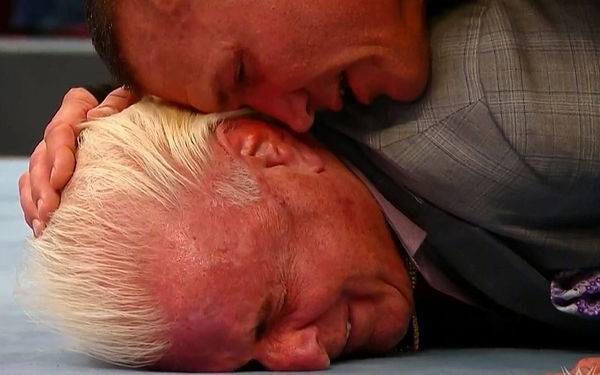 ---
---
Who said WWE can't tell good stories in 2020? You just need the best heel in the business and the best heel of all times in the ring at the same time. Tonight, Randy Orton and Ric Flair delivered what was probably the best segment of 2020.
ADVERTISEMENT
Article continues below this ad
You see, a company like WWE has a goldmine of history. There are so many links that it can tap into to create some compelling stories. The fact that they rarely do it is a story for another day.
After Randy got the victory over Kevin Owens, he asked Ric Flair to stay where he was. Once we returned from commercials, Randy blurted out some of the most vicious venom we've heard in a long time.
ADVERTISEMENT
Article continues below this ad
He called Ric Flair a washed up legend who had nothing left but still had lust for the spotlight. As per him, even though Ric helped him a lot, it was only because The Nature Boy couldn't live without being center stage.
However, this was nowhere close to the most hateful part of Orton's promo. The Viper told Flair that he was like the son he never had. If you look at the context, this statement seems so much worse.
Flair has a deceased son who was also into the professional wrestling business. The fact that Randy alluded to this sensitive part of his life was the biggest bombshell of the night.
Ric Flair delivers an emotional promo after Randy Orton berates him
An emotional Ric Flair struggled with his words. However, when he did manage to speak, he proved why people call him the greatest.
In an emotionally charged promo, he explained his absurd affection for Orton. Even the dirtiest player of the game has a heart and Randy had a place in it.
He went as far as to say that when he woke up from a coma, Randy was one of the people he thought of contacting first. In fact, it was not John Cena that he wished would break his record, it was Randy Orton.
While any sane person might be in tears by this time, not Randy Orton. Initially, it seemed like these words had melted his heart. However, after hugging his mentor, Orton low blowed him from behind.
Post this, he delivered a vicious punt kick to end the night.
Twitter goes ballistic after this segment
Twitter was full of appreciation for the two legends. They highlighted the brilliance of the segment on Raw.
Wow. When two pros get in a zone you can get great TV like that. #RAW

— Glenn Gilbertti (@TheRealDisco) August 11, 2020
I like what they did. Lights went out as Orton stomped his foot to make it look like it was a punt. At the same time not showing the "violence" on an old harmless man. Awesome ending. Can we get to SummerSlam already? I can't wait to see Drew McIntyre vs Randy Orton 🔥🔥#WWERaw pic.twitter.com/9VJG1Aj9lh

— Joseph Font (@JosephFont4) August 11, 2020
Why is Randy Orton the best heel in WWE? He doesn't make me want to turn my TV off and now I want Drew McIntyre to beat him up #WWERAW

— The Real One #OnlyValid (@WWEREALONE) August 11, 2020
ADVERTISEMENT
Article continues below this ad
ADVERTISEMENT
Article continues below this ad
SOURCE: WWE Twitter