Reason Why The Undertaker Abandoned His 'Deadman' Gimmick in 2000
Published 01/14/2021, 6:30 AM EST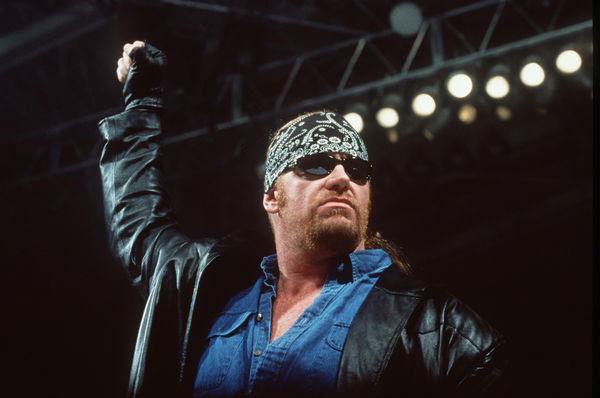 For most of his career, The Undertaker was known for his 'Deadman' persona. However, during the Attitude Era, Undertaker turned into a 'vigilante' through his 'American Badass' character. But why did WWE allow their resident ghoul to take on a lighter moniker?
ADVERTISEMENT
Article continues below this ad
At the beginning of the Attitude Era, The 'Minister of Darkness' Undertaker was dominating the screens. However, in late-1999, Undertaker took a break from the screen because of injuries.
The Phenom made his dramatic return in 2000 as a Biker. Later on, he played a tweener character as he supported WWE throughout the Invasion Angle.
ADVERTISEMENT
Article continues below this ad
In his Broken Skulls Session with Steve Austin, Undertaker revealed his best attribute was to perceive and change his characters when needed. He felt, "If I started feeling stale, my audience is probably feeling it before me.
"I don't think I would've made it through if I hadn't had changed when I did it go to the American Badass," said Undertaker. "The character (The Deadman), I don't think, would've lasted through Attitude Era."
The Deadman character did not fit in well with the aggressive and gritty nature of the Attitude Era. As a result, WWE used Undertaker's charisma in another way.
The Undertaker returned as the American Badass in his last match
After his debut in 2000, the American Badass lasted till 2003 before the Deadman came back once again against Kane. However, he made his onetime comeback in his last match against AJ Styles at WrestleMania 36.
ADVERTISEMENT
Article continues below this ad
In the highly acclaimed cinematic Boneyard match, Undertaker had a lot of fun.
"It was fun. At that point I hadn't made the decision of whether I was going to work or what I was going to do post this but man, it really felt good and I was like thinking to myself 'I gotta run here if I want it' and it was cool.
"We were out as they were setting up, doing the lighting and everything, I was taking that bike up and down the road. People in the neighborhood, their lights were coming on and I was like, this is fun," Undertaker said to Barstool.
ADVERTISEMENT
Article continues below this ad
While Undertaker played the Badass only for three years of of his illustrious thirty year long career, he left a lasting impact on his audience.