Released WWE Superstar becomes IMPACT World Champion
Published 09/02/2020, 8:00 AM EDT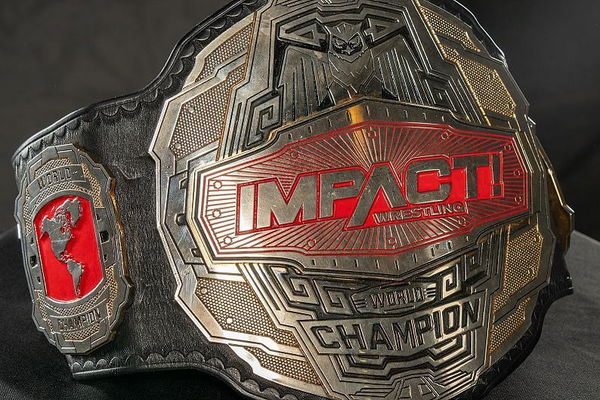 ---
---
Former WWE Superstar Eric Young has become the new Impact Wrestling World Champion.
ADVERTISEMENT
Article continues below this ad
Some might claim that the methods he used to acquire the title were rather unorthodox. However, the ends certainly justified the means when all was said and done.
ADVERTISEMENT
Article continues below this ad
Former WWE Superstar Eric Young used twisted methods for the win
When he made his surprising return at Slammiversary, Young claimed that it was all by design. This was all to build to the moment where he answered Eddie Edwards' Impact World Championship open challenge.
The entire match – from the second the bell rang to the final count – was a thriller. Young started off with a neck breaker. Following this, he made it a point to target Eddie Edwards' neck as much as possible.
Even though the signature moves were a part of the match, none of them were enough for either to secure the early victory.
The match took a turn when Edwards experienced problems with his knee. In fact, his knee had been bothering him for a while now. This injury turned out to be the deciding factor as Edwards failed to execute most of his signature maneuvers.
Unfortunately, Edwards ended up injuring his knee further when he attempted his Boston Knee Party finisher. Since Eric Young anticipated this move, he rolled out of the ring. The ambitious suicide dive by Edwards added to his woes.
Once Edwards was done with his attempts, Eric Young dived into his bag of tricks.
Young took the opportunity to grab the Heavyweight Championship Belt when the referee was distracted. However, the referee caught him and snatched the belt back. The twist was that the belt was counterfeit.
While the referee was looking the other way, Young reached for his hockey mask prop to take out Edwards. After this deadly attack, Young secured the win with a piledriver.
ADVERTISEMENT
Article continues below this ad
ADVERTISEMENT
Article continues below this ad
Even after winning the championship, Eric Young clipped Edwards' knee to solidify his evil character. The dark age of Young is truly upon us now.
Read Next: WWE Announces Another Match for the Vacant NXT Championship