Resurfaced Brock Lesnar Photo Would Shock Those Fans Who Thought He Was Always a Scary Monster
Published 03/14/2022, 8:30 AM EDT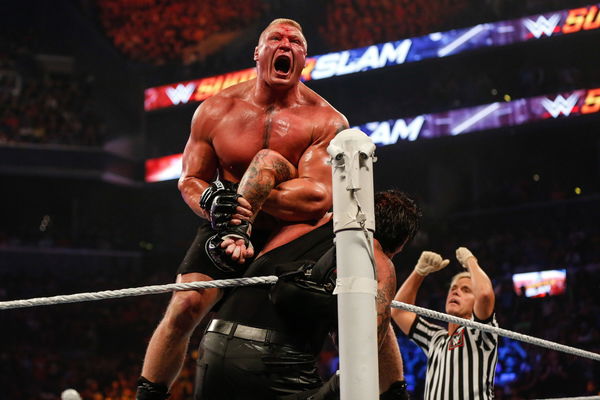 The Beast Incarnate Brock Lesnar has currently shocked the world with his new gimmick, The Cowboy Brock. Nobody thought in a million years that we will see Brock Lesnar cutting funny promos and acting chill in the ring. As of now, Lesnar is one of the major highlights around the pro-wrestling world.
ADVERTISEMENT
Article continues below this ad
This week Brock Lesnar's WWE debut will complete 20 years. He debuted on 18th March 2002, attacking Al Snow, Maven, and Spike Dudley during their WWF Hardcore Championship match. They quickly cemented him as the Next Big Thing.
ADVERTISEMENT
Article continues below this ad
Recently, WWE on their Twitter account shared the news of Brock Lesnar's 20 year debut anniversary. In the caption, they said, "This week marks the 20-year anniversary of @BrockLesnar's WWE debut. Which Brock era is your favorite? #BrockWeek"
They asked fans who was their favorite version of Lesnar. The options were three, The Next Big Thing, The Beast Incarnate, and Cowboy Brock. 
The fans consider Cowboy Brock as the favorite version as of now. However, one of the fans in the comments shared a much older picture of Lesnar from his OVW days. The caption said, "Can we also add OVW Brock Lesnar? #BrockWeek"
Brock Lesnar spent two years in Ohio Valley Wrestling (OVW) before debuting on the main roster. There Lesnar was paired with his college roommate, Shelton Benjamin, and they were called The Minnesota Stretching Crew.
Lesnar and Benjamin won the OVW Southern Tag Team titles three times. Lesnar was much athletic person back then. A young Lesnar used to perform Shooting Star Press in OVW. 
Watch this story:- $2.1 Million Farm, Private Jet, and More: A Peek Inside The Private Lifestyle of WWE Megastar Brock Lesnar
WWE would have added the OVW version of Lesnar as there is a different story and version of Brock Lesnar. Many wrestling fans are aware of how best Brock Lesnar was in OVW even though being in a tag team.
Brock Lesnar considered himself retired in 2020
ADVERTISEMENT
Article continues below this ad
The Beast appeared on The Michael Kay Show before the WWE MSG Live Event. There he spoke about the silent retirement he took after his WWE contract was over after WrestleMania 36.
Brock Lesnar thought his retirement was a Full Circle story of having wrestled the first match at a garage in front of no audience and the last match against Drew McIntyre at WrestleMania 36 in an empty arena. 
ADVERTISEMENT
Article continues below this ad
However, he returned to WWE at SummerSlam 2021, and the reason he said was for money. This WWE run of The Beast is turned out to be the best as per fans and many critics.