Ric Flair, Shawn Michaels, Triple H and Many WWE Legends Show Up for The Undertaker's Final Farewell
Published 11/22/2020, 11:04 PM EST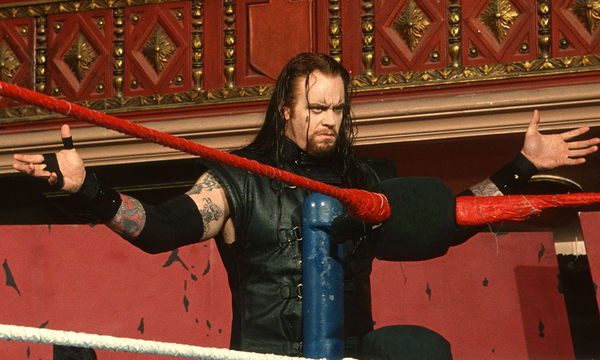 ---
---
The Undertaker has entertained us for thirty years. Now, it is time for him to Rest in Peace. As promoted by WWE, Survivor Series witnessed the Final Farewell of 'The Deadman.'
ADVERTISEMENT
Article continues below this ad
As the rumors said, The Undertaker was joined by his friends, challengers, and co-workers for the last time. The ones rumored to be appearing backstage came out to show their support.
Shane McMahon came out first, who has been the Undertaker's challenger and colleague for a long time. Big Show and JBL followed him. Michael Cole joked how JBL bought a new hat for the occasion.
ADVERTISEMENT
Article continues below this ad
With Undertaker's iconic symbol painted on his face, Jeff Hardy was up next. Then came a tribe of WWE Hall of Famers, starting with Mick Foley, with whom Undertaker had an infamous Cell match.
Members of the famous Bone Street Crew made their way to the ring. The members included WWE Hall of Famer The Godfather, The Godwinns, Savio Vega, and WWE Hall of Famer Rikishi. Cole also mentioned Undertaker's good friend and Hall of Famer the late Yokozuna.
After the BSK, Undertaker's challengers from the Attitude Era such as WWE Hall of Famer Kevin Nash, Booker T, Shawn Michaels, Ric Flair, and Triple H came into the ring.
Finally, Undertaker's 'brother of destruction,' Kane, made his return to the WWE ring after a long time. He was wearing his "Big Red Monster" attire. A video package followed.
Vince McMahon introduced The Undertaker one last time
After the video package was over, we saw WWE's chairman, Vince McMahon, standing in the ring alone. Vince talked about Taker's iconic 30 years in the company, striking fear in his opponents and entertaining a global audience in WWF and WWE.
Vince reiterated this run would never be duplicated, so "tonight we say goodbye, we say nothing lasts forever, which could be wrong, because the legacy of The Undertaker will live on eternally."
Post that, Vince introduced 'The Phenom' for one last time as the bells tolled in the Amway Center.
ADVERTISEMENT
Article continues below this ad
The arena went black as the flames started to shoot up. Vince waited in the ring as The Undertaker's iconic entrance began.
Last but not least, Undertaker's friend, mentor, and manager, the late Paul Bearer, appeared in the ring via hologram as Undertaker finished his final address.
ADVERTISEMENT
Article continues below this ad
The Undertaker received a reception worthy of a legend and he can finally take his place in the WWE Hall of Fame.